365 Days of Robert Pattinson: Jan.11 ~ Gif Of Rob Laughing

I think this is one of my favourites of this week. There's nothing I like better than to see Rob laughing.
Here are our favourite gifs of laughing Rob, don't forget to share yours in the comments section :-)
Kat
"What makes a Friday even better? Lot's of laughing Rob's in my timeline!!"
Kate
"Gosh it's hard to just choose one! I'm going with this one. I can't help but giggle when I look at it "
Tink
"you are my sunshine :)"
Click the thumbnail if you need to review the January calendar. If you missed the whole year, there's a link on the sidebar :)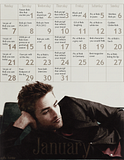 If you post your 365DoR links in the comments, give us time to approve them so the DR can see :)