Robert Pattinson is the #2 Sexiest Movie Star for Total Film: "I don't feel that I'm sexy at all."
It's a good thing what Rob feels about himself isn't fact because come ON....
I know one can argue that sexy, like beauty, is in the eye of the beholder but whatever. Rob was blessed by God. King of Sexy and that's just that.
Total Film
seems to think kings belong in number 2 spots but that's ok. Rob is also a giver and he gave up the number 1 spot to a lesser being so they might feel better about life. ;)
Click to view the full scan. We don't even get to know who's number 1...which is good so we don't have to curse him for all of eternity.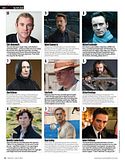 Scan:
Clara