New/Old picture of Robert Pattinson and Kristen Stewart driving around Los Angeles
UPDATE
: The source said the picture is from June 2012. Her reply below.
Do you know I would crash my car and endanger many lives if I ever say Rob driving? Take a picture? HA! HAHAHA! How about just trying to live through the awesomeness and not swerve into pedestrians or other vehicles.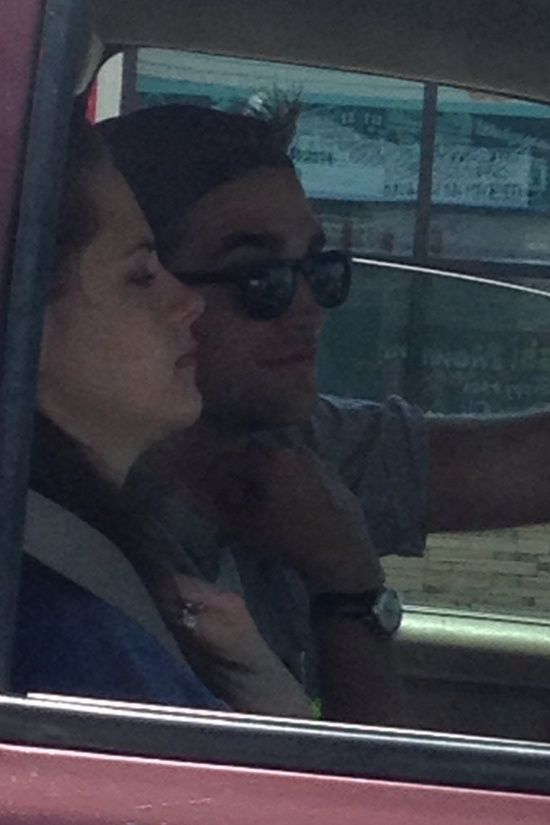 Photo caption:

Robert & Kristen driving on highland blvd.

The source doesn't give us a date but Rob is wearing his watch. He's worn it a couple of times with his dress wear during the fall but not as often casually since summer. I also say this like I see Rob daily. Please. In my dreams. The hair tuft through his cap suggests summer or earlier or late fall/winter (after LACMA Gala haircut). We know his hair was longer by TCA until LACMA Gala. It's not recent since Rob is filming and buzz cut. Sorry I'm not Sherlock, guys. :( I'll check the source again later to see if she updates. :)

UPDATE

: SpunkRansom guessed 13 weeks ago.

UPDATE 2

: The source replied on her picture with this comment.

Carol Silva: I think it was maybe a month or so before we found out she was cheating! Source

| Thanks cute!