Who knew all the answers to our Robert Pattinson questions and won a copy of Beautiful Bastard and $100 to La Perla?
The wait is over! Who are the proud winners of our
Beautiful Bastard
giveaway? First lets find out the answers to our questions. When did Rob tell ladies they should just throw their panties at him? In
2008
, on a Seattle radio talk show just before
Twilight
came out. He was unfiltered and hilarious and pure Rob.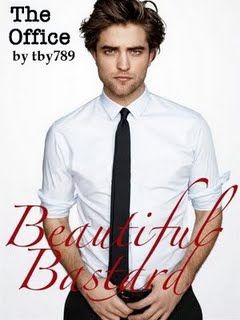 How about the photoshoot that inspired the look of Beautiful Bastard in
The Office
? It was none other than
GQRob
! He was suited up with rolled sleeves looking positively sinful with that long tousled hair and smoldering gaze.
And the last question was, "what is the title of the fanfiction Rob has admitted to reading?"
Most recently during
Breaking Dawn Part 2
promo, Josh Horowitz played the Yes/No game with the cast. One of questions was if they'd ever read any Twilight fanfiction and Rob said he read
Master of the Universe
. He was ahead of the game.
There you have it! 2008, GQ and Master of the Universe. Using
Random.org
, the winner of our
Beautiful Bastard
giveaway which includes $100 gift card to
La Perla
or
Victoria's Secret
and an advance copy of
Beautiful Bastard
is....................................
DsReverie!
Runner-up, and the winner of an advance copy of
Beautiful Bastard
.................................
LorenaG!
Congratulations ladies! You will receive an email shortly on what further information is required from you.
If you are interested in another contest with the same prize, our sister site, RobertPattinsonFilms, is hosting one. Kate and I work with some other friends on Rob's movies and Jen (myRobPattinson) is running a
Beautiful Bastard
giveaway. The question is easy for anyone who's Robsessed.
Click HERE to see the contest.
If anyone else is curious about
Beautiful Bastard
, I wrote up a quick, spoiler-free review.
Review after the cut!
I read the original fanfic back in 2009. I remember devouring each chapter and the torture waiting for updates because it was when I first started reading fanfic and didn't mind WIPs (works in progress).
The Office
was one spicy number. Reading
Beautiful Bastard
was like visiting an old friend - you catch up and remember the things that made you friends in the first place and also find out what else is new.
What made me love Beautiful Bastard in the first place? It's still the same spicy number with loads of highly erotic scenes that will require a fan nearby. Beautiful Bastard is still BB - Bennett Ryan - the smart, powerful executive wearing those tailored suits, the freshly f*cked hair and that attitude problem that sends his intern's - Chloe Mills - pulse racing with anger and lust. She tortures him with her sass and high-end panty fetish. These two are quite the naughty pair. What else is new? Plot twists and turns I wasn't expecting and the ending. It made me very cruious about the sequel and where Bennett and Chloe will go in
Beautiful Stranger.
The story is a page turner with Chloe and Bennett pulling and pushing each other away physically and ultimately emotionally. A quick read that is fun, sexy and definitely has you perusing your lingerie collection with desire to update....just in case. ;)
Congrats to the authors, Christina Hobbs and Lauren Billings. We wish them success and thank them for the giveaway prizes. :)
If you'd like to pre-order your copy now, here are the amazon links for the US and UK