Robert Pattinson and his extra vertebrae tickle the ivories
Unsolved Rob Mysteries are so fun and make you crazy! We've already got one Rob mystery flitting around today (
DIORDIORDIOR
) and now I'm adding another.
Jeremy Harris
tweeted early this morning:
Making music at @ Rpatz house. Nbd.
Let the games begin!
He has since deleted his tweet and the video he posted of Rob playing piano and guitar with Isabella Summers, keyboardist from
Florence and the Machine
. Click
HERE
if you want to see a short video taken by Harris of Summers playing on the piano in the pic. It's the only one that lives on....for now. I feel like MusicalRob is trying to break free and
how can we forget this surprising gem
?
A lone FATM fan
claims to have snagged the video when it was tweeted but she's keeping a lid on it. She just posted a cap of the video she got. She's since locked her account because you can't dangle a steak in front of a lion, right? It's going to get
really
bad
really
fast.
Our fandom DID however snag the cap of Rob tickling the ivories with Summers. Quick on the draw! You need to be since the delete button was exercised frequently as this all went down.
LOVE IT. Play that funky music, white boy. And do we NOT know this man's backside? It's been around the block a few times in his films. He's got "a few too extra vertebrae". ;)
While examining the photo, I noticed the guitar on top of the piano. It's rather unique and made me squee. These two pictures are from when I got a chance to hear Sam Bradley play last year during a time he was hanging with Rob. When we asked him about the unique guitar, he smiled coyly and said it was a friend's. ;) The body is made entirely of some type of metal and it's got the coolest twang sound to it when played.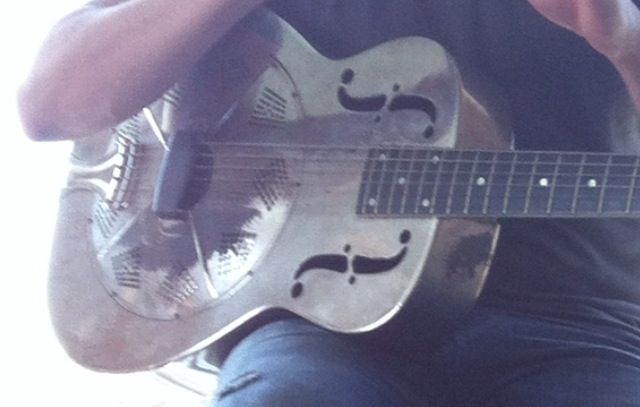 The video may never surface but I think it might....these things don't stay quiet forever and like I said earlier, I think MusicalRob is trying to break free!
The Ellen Show
interview is actually a great throwback and while it's off topic, I'm posting it after the cut. This was the interview Rob also talked about saving the snails - a reference we were all discussing when we found out
Rob also saves alligators
.
The Elle Show video after the cut!
Screencap Source:
buildingcoffins
Via:
JlynCSS
| Thanks Cute, C, and Nancy