365 Days of Robert Pattinson: July 16: ~ Pic of Rob with something in his mouth
Kate and I cheated and went with gifs....how could we not!
But before there were toothpicks and lollipops, there was....the coffee straw.
Kate:
"Oh to be a toothpick!"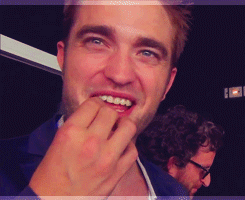 Tink:
"So...akj aklsdjoiojfg jiwoqpjsd lkdnv. noaifofsk kajdbqojknpbn dk skbbviu skj! KJSDFPVLKA ND NLCVSDO NV JUVN KSJEIO!!!! MOVAOIO. AFSA. CMO. OSKDFLN!!!"
Kat:
"What is it about his mouth? It's delicious. Things just wanna jump into it. And for that we're oh so thankful."
If you post your 365DoR links in the comments, give us time to approve them so the DR can see :)
Click for HQ!