No photo or vid left behind: Pics of Robert Pattinson leaving LAX and new video arriving in Toronto (July 17)
Such a sweetheart. Making dreams come true...
Click HERE and HERE for the other videos of Rob's arrival and click HERE and HERE for pictures of Rob's arrival.
For a guy relatively low-key with his off-carpet fashion choices, we eat up the littlest things. We've already seen the Stussy polka dot backpack
HERE
(Thanks CJ!) but it's catching the eyes of many outside our fandom world now.
But I'm more into this....
See that belt?? I want more. I want more belts and more of Rob flashing belts. Is this our first official beltporn post???? Methinks it is. :)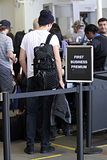 Click HERE for more pics of Rob at LAX.
Source