ROBsessed Scavenger Hunt Part 3: Know your Robert "Robearrr" Pattinson for a chance to win a copy of Beautiful Bitch!
It's time for your final question in our Robearrrr-themed scavenger hunt for your chance to win 1 of 3 copies of
Beautiful Bitch
by
Christina Lauren
! You got those thinking caps on?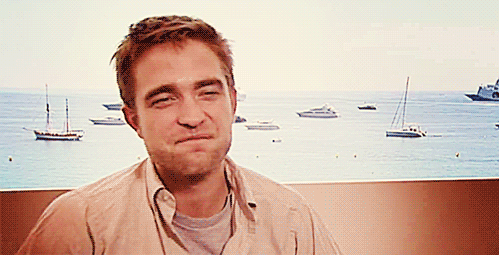 Oh man...that gif isn't going to help us think. Let's get to the question before CannesRob melts our brain cells:
Q3: Rob once said his plans weren't to act but to play an instrument in the south of France. What was that instrument?
Ok that's it! Click
HERE
if you missed QUESTION 1 and click
HERE
if you missed QUESTION 2.
Submit your 3 answers to

robsessedgiveaway@gmail.com

Deadline is:

Saturday, July 13 at 12pm PST




Contest is open to US/Canadian residents.

Bonne chance!
Synopsis for
Beautiful Bitch
:
Picking up where BEAUTIFUL BASTARD left off, Chloe and Bennett are just as hot for each other, even as their love-hate relationship has developed into more of a love-frustration relationship. While they still tear each other's clothes off whenever they are near one another, finding that time to be alone together is harder than ever.
No longer Bennett's assistant, Chloe has a career of her own, and the Beautiful Bastard himself is always away on business trips, setting up a new Ryan Media HQ in New York. Bennett wishes it would all slow down long enough to spend a wild night alone with his intern- cum-girlfriend. Preferably one in which he can show her he's still the boss. After her continued refusals to take time off with him, Bennett can finally no longer take "no" for an answer.
But a vacation...to France? That sounds like just the ticket for relaxation, reconnection, and some serious kink. And so the couple finds themselves with two plane tickets, one French villa, and a surprising conversation that, predictably, leaves them wrestling under the covers. In BEAUTIFUL BITCH, readers will be captivated not only by what happens in the bedroom, but also by what develops as the next phase in this hot couple's lives.
Click the links if you don't want to wait!