TWEETS: Robert Pattinson is a giver, a sweetie, a sports analyst and a vocal god
UPDATE2
: His beauty is quite stunning...
The pics from #Dior are in the office the girls at @GlamourSpain are shocked as how beautiful #RobertPattinson is in them!!!
— mariaestevez (@mariateam) July 5, 2013
UPDATE
: Another DiorRob journalist (Glamour Italia) had some fun tweets to tease. This interviews will start popping up in September issues:
Can't wait to be done with all the articles I have to write, so I can focus on my #RobertPattinson interview ! #DiorRob @Glamouritalia
— Nina Verdelli (@ninaverdelli) July 4, 2013
@eliza22_ he did talk about the future, wait and see:)
— Nina Verdelli (@ninaverdelli) July 5, 2013
@Suziekew as soon as I'll start writing, I'll try do give you a little anticipation:)
— Nina Verdelli (@ninaverdelli) July 5, 2013
@Chicajezzabelle @Glamouritalia and listening to his voice over and over again! #DiorRob
— Nina Verdelli (@ninaverdelli) July 5, 2013
@floridalass @RT0407 @Glamouritalia agreed!
— Nina Verdelli (@ninaverdelli) July 5, 2013
While we patiently (not so patiently?) await the interviews for DiorRob, the lucky journalists that got to sit down one on one with THE MAN have been teasing details. Here are the latest:
Rob #Pattinson about @Arsenal in upcoming @sportetstyle interview : "They are more concerned by playing elegantly than actually winning!"
— Yves Bongarcon (@Whybee1) July 3, 2013
I love when Rob gets sporty. Arsenal is his favorite football club and it reminded me of
this old pic of Rob
looking fanboyish with Theo Walcott. Here's the other tease, well...not so much a tease but more of a tweet that makes you say, "Amen sista!"
Writing down #RobertPattinson interview from recording. Stopping every 5 words because his voice is too hot #DiorRob @MarieClaire_it
— Debora Attanasio (@NualaSantini) July 3, 2013
GAH. Hows about we get an audio of the
Marie Claire
Italia
interview too?? Ms. Attanasio must be in heaven listening to her playback. *SIGH* Makes me want to go listen to some Rob commentary...
*melts* There was a cool giveaway we did last year that featured a sampling of audio clips from a Rob interview. I loved
hearing
the interview over reading it...no surprise there. Click
HERE
to listen to
the heavenly angel
Rob again.
Lastly, this isn't a tease for DiorRob interviews but was another fun tweet about Rob.
@coketweet
hinted the other night that Rob gave her his ecig at the
Beyonce concert
. She later gave a little more info on her blog. From
The Coquette
: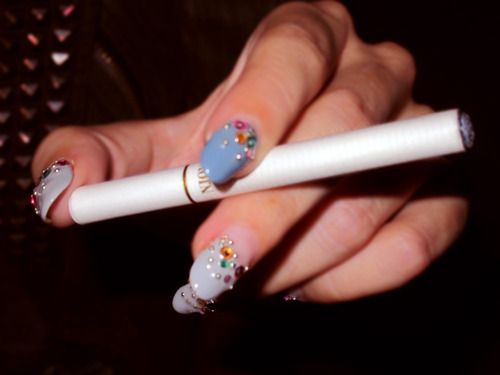 Yeah, Robert Pattinson really did give me his electronic cigarette at the Beyonce concert tonight. When I asked him for a lighter, he thought I was fucking with him. Honestly though, I assumed it was a one hitter until he showed me how to use the damn thing. Bizarre little moment, and of course, he's a total sweetie.
The ecig with Rob's DNA-carrying-dried-saliva (that was kinda gross to type but whatev...ROBsessed FTMFW) is currently being shipped to the number 1 cloning facility in the world. We should expect the first batch of Robs to be completed by mid-2014 and available for shipment by Christmas. The Rob is going to be expensive so start saving, laaaaadieeeees.