Robert Pattinson's The Lost City of Z will film Summer 2014!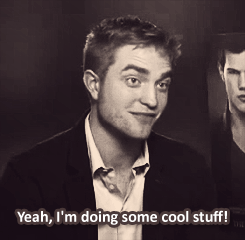 According to
Variety
,
The Lost City of Z
will shoot Summer 2014:
Megan Ellison made a serious splash last year as a major Hollywood player with "Zero Dark Thirty" and "The Master" through her Annapurna Pictures. She's remained on the radar this year thanks to "Spring Breakers," Spike Jonze's "Her," David O. Russell's "American Hustle" and Bennett Miller's "Foxcatcher." A less-noticed component of Annapurna has been Panorama Media. Launched at Cannes last year to move into the foreign sales arena, it's enabled Ellison to using foreign pre-sales to cover part of the production costs and be a player in the increasingly vital international market. Panorama, headed by industry vets Marc Butan and Kim Fox, comes to AFM with "Pride and Prejudice and Zombies," Jessica Chastain's "The Zookeeper's Wife" and James Gray's "Lost City of Z," starring Robert Pattinson and Benedict Cumberbatch. Butan said Panorama started with a skeleton staff of three. "We formally launched in Cannes last year before we really up to speed, but Megan and Annapurna had such a fantastic slate already." The execs say they're laser-focused on adjusting to evolving markets. "The marketplace always changes so 12 months later, it's always going to be different," Butan said. "The softness in Europe is making life difficult in every market, whether its consolidation, TV or the economy." Fox said the evolution of digital platforms has not gained at a fast enough clip to make up for the decline in DVD. "Zookeeper's Wife" is shooting next year and advance sales have been made in 90% of world markets and

"Lost City of Z" is shooting this summer

. And Panorama will be starting sales on John Hillcoat's crime thriller "999."
If you missed the initial announcement, click
HERE
to catch up! This is a great gig for Rob and he's working with a director he
dreamed to work with
and no doubt was on his bucket list of
directors he MUST work with
.
We'll continue to keep you posted on Rob in TLCoZ and you can follow us
@TheLostCityOfZ
for more updates on the film!