New/Old Pic Of Robert Pattinson At Soho House LA
This new/old pic of Rob at Soho House in LA was posted on instagram today. We don't have a date for when it was taken but will update if/when we find out.
Caption on pic
"AB & RPatt relaxing with Jezz Bedwani at Soho House LA. #robertpattinson"
Click for Larger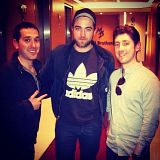 Thanks PJ for the heads up ;)