POLL: What Robert Pattinson film are you looking forward to him completing in 2014?
With less than 24 hours to go in the heated Round 2 MTV Movie Brawl (CLICK
HERE
TO VOTE), I know you guys might be poll'd out but I was curious about the ROBsessed consensus on something we covered during 365DoR for Rob's workload in 2013.
If all goes according to plan, Rob will be filming 5 movies in the first 6 months of the year! It's an ambitious calendar but we're not complaining. All work and no play hardly makes Rob a dull boy. So of all the films, which one are you looking forward to the most? I know we want them alllllll but which story/character do you have your fingers and toes crossed that it stays on Rob's schedule?
Queen of the Desert
- filming now, Rob will play T.E. Lawrence in Werner Herzog's story about Gertrude Bell. Rob is in a supporting role but he's playing an iconic character and with a director he considers
a genius
.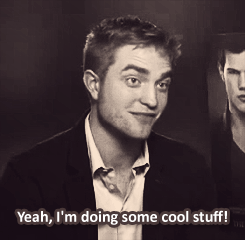 Life
- filming to start in February, Rob will play Dennis Stock, the Life magazine photographer famous for showing an intimate look into the life of James Dean. Rob is in a leading role as we see him play a straight-laced man chasing a rebellious rising star which leads to an unexpected friendship.
Fun trivia
: The
Life
script was written by Luke Davies - housemate of David Michôd, Rob's
The Rover
director.
Mission: Blacklist
- filming scheduled for the second quarter, Rob will play real-life hero, Eric Maddox. Another leading role, Rob dives into the historical tale of how a young, brilliant military interrogator assisted in the capturing of Saddam Hussein.
The Childhood of a Leader
- filming scheduled for May, not much is known about Rob's role in this film yet but it tracks the childhood of a World War 1 leader. We also know that the movie will reunite Rob with his
Cosmopolis
co-star, Juliette Binoche, and is the directorial debut of Brady Corbet.
Fun Trivia
: Brady Corbet was at Rob's
Cosmopolis
premiere in NYC.
The Lost City of Z
- filming this summer, Rob will keep his trend going and play in another true story. We don't know his role in this film either but it's an adventure tale set in the 1920s. Rob will find himself working with another director
he admires greatly
- James Gray.
Select one or more
We love and support all of Rob's films and can't wait for them to grace the big screen!