Robert Pattinson's Vanity Fair cover goes on sale March 3rd! Some of you may have grabbed it already. Magazine stands tend to put them out on Wednesdays. Let's support Rob and pick up a few copies ;)
You can also read the article online at
VanityFair.com
Additionally, the entertainment shows are reporting on the cover.

Access Hollywood
got to chat with the interviewer of the VF article
Also, Entertainment Tonight got to chat with her as well.
Thanks
RobPattzNews
for the video!
And the E! online report...same little tidbits discussed...
Vid
source
Of course they talk about the sensational aspects of the interview: Charlie Sheen and Kristen Stewart. *eye roll* I know, I know...it's an entertainment show. They're going to ask about the more gossipy stuff. I'm probably just harboring a lil hostility towards the interviewer. We barely got any WFE info from Rob, she talked to him about Twilight too much in my opinion, and set a very melancholy tone throughout the whole piece.
Support our guy and go out tomorrow to pick up your copy! Let's make this the best selling cover of VF for 2011 :))
PLUS, check out Access Hollywood tomorrow, March 3rd. NEW Water For Elephants scenes!
UPDATE
: the video announcement of new scenes
Produce_3
Uploaded by officialspunkransom. - Watch feature films and entire TV shows.
Lick and save to get ready for VanityFairRob! Thanks
Marina H
for giving us this gorgeous wallpaper to celebrate the new shoot and mag :))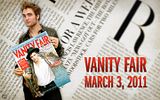 Other VF wallpapers created by Marina