365 Days of Robert Pattinson: March 4 ~ Pic of Rob wearing untidy shoes
Baby is hobolicious to the core. Untidy is being kind because we know Rob wears his kicks to the ground.
Kate:
"Awwww he looks cold in this pic. I just wanna warm him up! *wiggles eyebrows*"
Tink:
"i can NOT with his cuteness. i want to turn him into gelato and eat him up. nasty pro-Keds and all."
Kat:
"this was actually harder than I thought it would be. In the end I had to go with these ones as I've had the same ones for about 10 years! I have seen 'untidier' pics though!"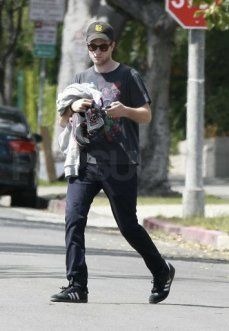 Click the thumbnail if you need to review the March calendar. If you missed the whole year, there's a link on the sidebar :)
If you post your 365DoR links in the comments, give us time to approve them so the DR can see :)