'It Was Amazing To Watch Rob With The Babies' ~ Bill Condon
We've seen this BTS clip of Rob and the babies before but now it's in better quality and come on it's too cute not to watch again right?
UGH how adorable is it when he tells the baby to go to sleep?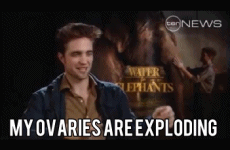 Check Out the vid at USAToday OR Watch the You Tube below
via
Clara
YouTube
Source
Don't forget you lucky US people can get your hands on "Breaking Dawn Part 2" from midnight tonight.
If you're still having touble deciding on which version to buy then check out our handy Buying Guide with all the info you'll need on the exclusives that each store is offering.
Check that out HERE