ROUND 1: ROBsessed Holiday Video Challenge! Vote For Your Fave Robert Pattinson Videos!
It's time to start voting in our Robsessed Holiday Video Challange so grab yourself a cuppa and have a look at the great videos that are in competition for your votes this year!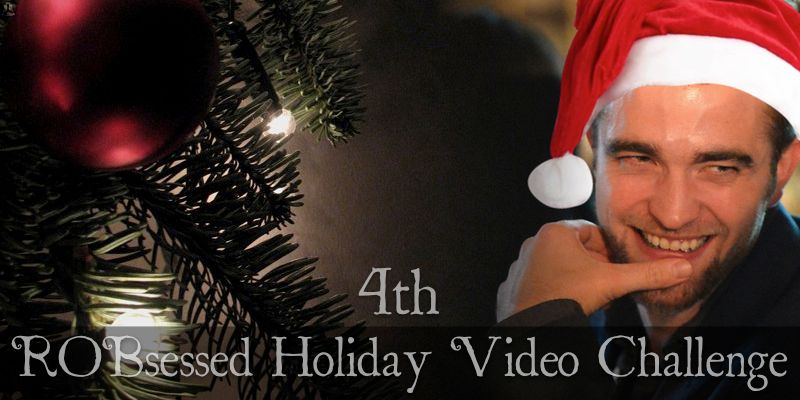 Before we get to the RobHoliday videos, here are a few details about the challenge:
Round 1: From Dec. 22nd at 12pm PST to Dec. 23rd at 12pm PST featuring 7 videos
Round 2: From Dec. 23rd at 12pm PST to Dec. 24th at 12pm PST featuring the top 4 videos
Final Round: From Dec. 24th at 12pm PST to Dec. 25th at 12pm PST featuring the top 3 videos
Winners Announced: Dec. 26th at 12pm PST!
ROBsessed readers will vote for their favorite videos in each round.
The number of votes allowed will be specified in the poll at the bottom of the videos in each post.
Prizes gifted from ROBsessed mods: 1st place - $100 | 2nd place - $50 | 3rd place - $25
GOOD LUCK TO ALL ENTRANTS!!!! We had great fun viewing your work!
ROBHOLIDAY VIDEOS AFTER THE CUT! VOTE VOTE VOTE!!!
If any videos do not work, click the video maker's name to go directly to their video page.
Video 1 by verenajj:
Video 2 by HisHandsObsessed:
Video 3 by noe mi:
Video 4 by Kata Nomm:
Video 5 by sklost:
Video 6 by Mizzzar001:
Video 7 by AlauravidS:
Vote for your TOP FOUR (4) Videos!
Top 4 videos advance to Round 2 starting Dec. 23rd at 12pm PST! GOOD LUCK!!!