ROUND 2: ROBsessed Holiday Video Challenge! Vote For Your Fave Robert Pattinson Videos!
First, we want to say thank you to all the entrants. Even if Round 1 was your final stop, watching your RobHoliday videos was a treat and we're lucky to have you share your Robmas spirit with us. It warms our hearts and puts a smile on our faces.
Second, we're adding a new video to this round because we failed to check our spam folder when gathering entries. We missed a video that was on time and can't have it left out of the fun times! The new video will be the first video.
Now.....ON WITH THE SHOW!!!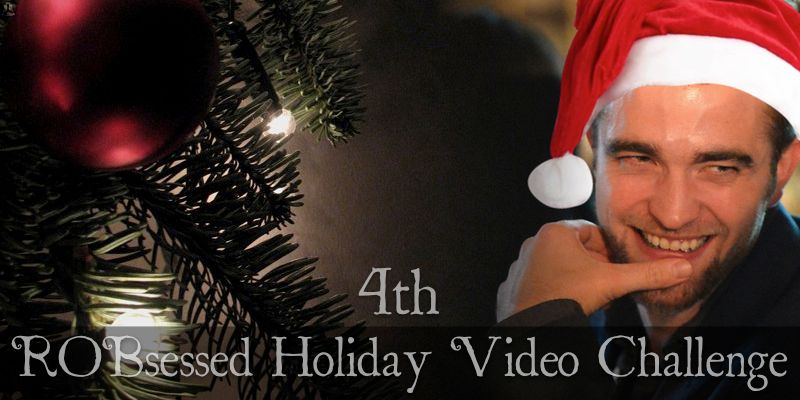 Before we get to the RobHoliday videos, here are a few details about the challenge (
Note changes in voting times
):
Round 1: From Dec. 22nd at 12pm PST to Dec. 23rd at 12pm PST featuring 7 videos
Round 2: From Dec. 23rd at 12pm PST to Dec. 24th at 12pm PST featuring the top 4 videos + 1 extra due to email error.
Final Round: From Dec. 24th at 12pm PST to Dec. 25th at 12am PST featuring the top 3 videos
Winners Announced: Dec. 25th at 6am PST!
ROBsessed readers will vote for their favorite videos in each round.
The number of votes allowed will be specified in the poll at the bottom of the videos in each post.
Prizes gifted from ROBsessed mods: 1st place - $100 | 2nd place - $50 | 3rd place - $25
GOOD LUCK TO ALL ENTRANTS!!!!
ROBHOLIDAY VIDEOS AFTER THE CUT! VOTE VOTE VOTE!!!
If any videos do not work, click the video maker's name to go directly to their video page.
Video 1 by OliveColouredvoice:
Video 2 by noe mi:
Video 3 by sklost:
Video 4 by verenajj:
Video 5 by HisHandsObsessed:
Vote for your TOP THREE (3) Videos!
Top 3 videos advance to the FINAL ROUND starting Dec. 24th at 12pm PST! GOOD LUCK!!!