UPDATE: Another mention from a different interview added below
Robert Pattinson to work with Olivier Assayas? "Let's hope so..."

It looks like Rob has got another esteemed director lined up...Olivier Assayas!


The rumor comes from an interview Assayas conducted with French newspaper, "The Inrocks". Pattinson Art Work has provided a translation of the interview but the French version follows directly after:

Translation: "I see that in the United States, especially since the success of 'l'Heure d'été' and 'Carlos', I gained a relative notoriety, which sharpens the curiosity of some actors. In my next film, for example, will included Robert Pattinson."
Transcript: "Je vois bien qu'aux États-Unis, notamment depuis le succès de 'l'Heure d'été' et de 'Carlos', j'ai acquis une notoriété relative, qui aiguise la curiosité de certains acteurs. Dans mon prochain film par exemple, figurera Robert Pattinson."
That's awesome. Rob is pretty entrenched in the auteur, independent film circuit now. And a bit of trivia, do you remember the last time we mentioned Assayas on the blog? These guys were having a bit of fun with Rob's fandom but
Rob was there
with buddies Tom Sturridge and Johnny Flynn (Flynn was in Assayas'
Something In The Air
). Now I wish those guys had eavesdropped on some conversations with Rob and Olivier. We know the collaboration was welcomed in 2012....
The film Rob might be in isn't specified but
Variety
has some information on Assayas' next film,
HUBRIS
- his first shot in the US. It'll be "
an action-packed crime thriller set against the backdrop of organized crime in Chicago in the 1970s.
" Oh YES PLEASE!
Assayas will write the script.
"Inspired by an article by journo Hillel Levin, "Hubris" turns on a gang of thieves led by notorious mastermind John Mendell who rob a pawn shop only to discover it is a front for Chicago's most brutal crime boss, Tony Accardo."
GAH. We'll keep a look out to see if this is the one Rob might be involved in.
Scans
| Via:
PAW
| Variety Tips:
Clara
&
OhWell
Another mention from Olivier of possibly working with Rob. This time in an interview with Studio Cine Live.
Translation:
"These young
people really
deserve to be
recognized
Besides,
my next film
I

'll

probably shoot
with
robert
pattinson"
Click for the full scan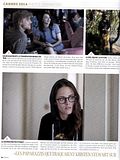 via
rpattzrobertpattinson