ROBsessed Giveaway: Enter our worldwide giveaway to win the 5-novel Hollingsworth series for Fiction Friday!
The worldwide giveaways continue and we have a great, 5-novel series to give to you guys over the next couple of weeks!
Well that just doesn't matter, Rob, because this giveaway is for our readers.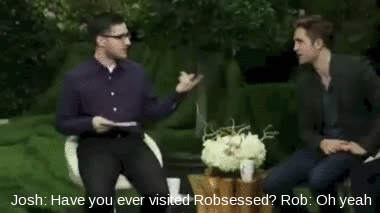 Oh fine. This giveaway can be for Rob too. ;)
L.B. Pavlov has written a sprawling, romantic, family drama over the course of 5 novels. The Hollingsworth Series includes, CHARLOTTE'S TANGLED WEB, CHARLOTTE UNTANGLED, EMERSON'S FURY, INDY'S AWAKENING, and FINN'S FOREVER.
Pavlov's series was inspired by Edward and Bella's love story in Twilight and next week we'll post our interview with the author to see what goodies she has to share about her saga. For now, you can check out the synopses.

Charlotte's Tangled Web will take you on a journey with a shy and sweet Charlotte Ford has her life planned out for her long before she is able to make decisions for herself. Charlotte's best friend, Daniel Hollingsworth, is the only person that truly understands her. Their friendship first began when they were very young children, and over the years it will continue to grow and to form an unbreakable bond between them.
As Charlotte and Daniel begin their senior year in high school, their friendship will begin to change, and their love for one another will become stronger than either had ever imagined possible. As these two elite athletes are faced with unbelievable obstacles, their love will be tested, and they will find out if love really does conquer all.
Charlotte Untangled is the second book in The Hollingsworth Series, and it continues to follow the saga of Charlotte and Daniel, and their quest to be together. Charlotte and Daniel have worked hard to overcome the miles between them. While working to achieve their personal goals, both are focused on their longtime desire to be together.
As they finally see the light at the end of the tunnel, unforeseen obstacles will suddenly challenge their hopes and dreams. Is the hatred of another enough to destroy the unconditional love these two share?
Emerson's Fury, the third book in The Hollingsworth Series will take you on a journey with Daniel and Charlotte's daughter, Emerson. Emerson Hollingsworth lived a life that most girls would dream of; however, she wondered if she would ever find the kind of love that her parents share.
As she confidently pushed her way through a crowd of football players, she would find herself falling in more ways than one. She had never met anyone like Cross Tarantino, and although they come from two completely different worlds, their instant connection made it impossible to stay away.
Indy's Awakening, the fourth book in The Hollingsworth Series continues to follow the saga of the Hollingsworth family. Indiana Hollingsworth has survived a grieving heart by submerging himself into his company, which has become his lifeline. His professional life comes first, and there is no room for emotional heartache.
The constant concern from his family is not something that he is willing to confront, nor deal with any time soon. Everly Gray, a shy and studious grad student, has her own secrets to protect.
But when fate would bring them together, would it be possible to avoid the powerful connection that they share?
Finn's Forever, the final book in The Hollingsworth Series continues to follow the saga of the Hollingsworth family. Finn Hollingsworth had always led a charmed life. He was following in his father's footsteps as an NFL quarterback, and women tended to fall at his feet. His family had always been the center of his universe, until the day that Hudson Monroe would walk into his life and turn everything upside down.
Finn Hollingsworth was the last thing that Hudson was looking for, in fact, he was everything she was determined to avoid.
True love is tested when the obstacles that threaten to drive a wedge between them seem impossible to overcome.
Giveaway guidelines:
You only have to click a button, which you'll see when you enter. Tweeting the giveaway, liking the author's Facebook and following her on twitter is optional but gives you more chances to win.
There will be

1 winner

receiving all 5 books in The Hollingsworth Series
Giveaway is worldwide!
You MUST enter using Rafflecopter or your entry will not be counted

You can enter once a day, everyday, until the closing date - Friday, Oct. 17th

Winners will be chosen by random.org and announced on or after Oct. 17
Good luck!!!
a Rafflecopter giveaway
Sweet Filthy Boy and Dirty Rowdy Thing winner under the cut & MORE!
a Rafflecopter giveaway
Congrats Kay! We'll email you to gather your mailing address!
FanFic Friday:
Sear
has continued this past week and as I'm typing this, a much anticipated next chapter has posted so I'm going to speed this up. I'm still reading
Deep in the Heart of Me
and love how much we're in Edward, sorry, Tonio's head. I feel like we're living in his mind and he's fascinating. It's October which means I also do my annual reading of
The Masque of Red Death
. This is major Horrorward and I loooooove it. If you're down with that kind of vampire Edward, this is a quick read and deliciously dark. I'm talking gory dark. It's also a great love story with comedic touches. LOL Twisted and creepy stuff. Perfect for Halloween season!
If you want to purchase any of the latest books featured in this post, click the Amazon links to buy now!