There are multiple places where you can vote for Robert Pattinson and "feel good about yourself" :) You can say you did something good today! You can feel the sunshine on your face...Too much? :)
First up Glamour Magazine's "Glamorous Crush". The list includes Taylor Lautner ,
Alexander Skarsgard
(
I am quite partial to Alex but Rob wins hands down:)
), Usain Bolt (
who needs a man who can run away like a cheetah?
) so on.
You can vote HERE
.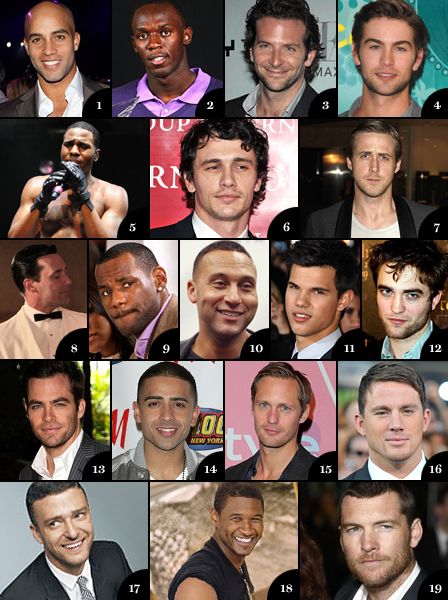 Next up is Z100 Awards, we told you about this last week but here's your reminder. You can
vote for Rob HERE
in the "Hottie of the Year" category, he is losing to Zefron right now! *Chagrin*. Rob and Kristen are also up for "favorite celeb couple" award :)
And the third one puts my new "crush"
Alexander Skarsgard
head to head with my Robert Pattinson!

From
The Improper
:
Alexander Skarsgård
has developed a dedicated following just like Robert Pattinson in "Twilight" ever since being cast in 2008 as the sexy vampire Eric Northman in the hit HBO series "True Blood." But who's hotter?
In many ways, he's career trajectory and popularity is the same as Rob's. Ironically, they both play vampires! Today, Skarsgård is almost as hot — or even hotter, according to his legion of fans — than Rob, who is besieged everywhere he goes.(
Gozde: Yeah, no, Alex's fan base is not "there" yet. There being refreshing a webpage 10 times a day to see if there's new pictures of him.*looks around* :)
)
How do the two compare?
At 33, Alexander is a decade older the Rob and is better prepared mentally to deal with the overwhelming attention of his fans. So far, he says he's been able to grounded by ignoring the media hype.
"I never read fan sites or blogs," he says. "I don't think it's good for me. If it's negative I know it will get to me. Or you just read positive things, your ego sort of explodes."
Like Rob, he also vows not to change: "Nothing would hurt me more than if [my friends] said that I have changed," he says. "After all, I was over 30 when things started to happen in the States."
You can vote for ROB HERE
:)
You can also vote for Rob at the
Greek Vamp Awards HERE
.
Don't you feel better now? :)