If you haven't seen True Blood yet you are missing out so much HOTNESS. From
Alexander Skarsgård
's Eric to Stephen Moyer's Bill all of the cast is smokin' hot and they are not afraid to show every inch of their sexiness :)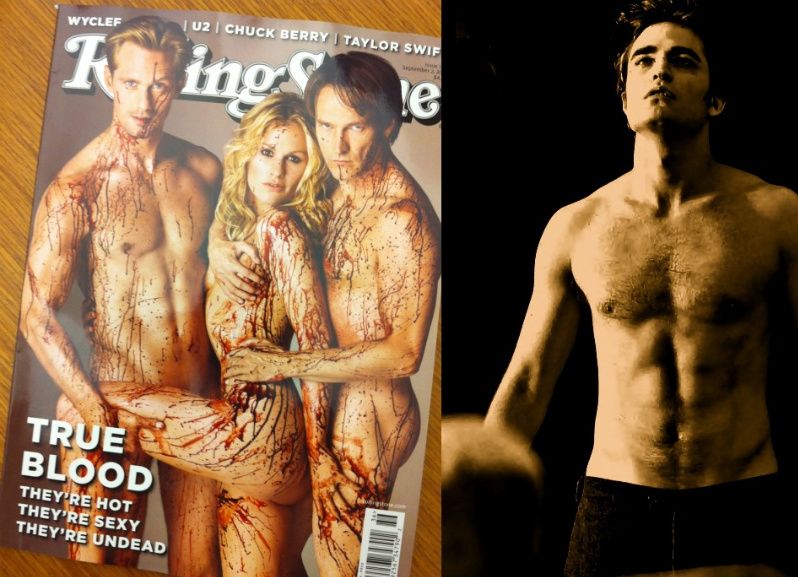 In the new issue of
Rolling Stone Magazine
Stephen Moyer talks about Vampires, sex and he name drops Robert Pattinson in a very cute way:
"To me, vampires are sex," says show creator Alan Ball. "I don't get a vampire story about abstinence. I'm 53. I don't care about high school students. I find them irritating and uninformed."

Take that, Twilight fans.

Says Stephen Moyer, who plays a vampire who dates back to the Civil War, "If we go from a base level, vampires create a hole in the neck where there wasn't one before. It's a de-virginization—breaking the hymen, creating blood and then drinking the virginal blood. And there's something sharp, the fang, which is probing and penetrating and moving into it. So that's pretty sexy. I think that makes vampires attractive." He laughs a little. "Plus, Robert Pattinson is just hot, right?"
Source 1
,
source 2
,
Source 3
Thanks to Crystal for the tip :)