So you may already have seen our trailer for "The Cosmopolis Quest"
If you haven't check it out below.....
And now a more in depth look at what you can win and more importantly HOW you can win them !
Thanks to Hip Genius & EOne we don't have Three we have
FIVE
Fabulous Prize Packs each containing 3 DVD's (Cosmopolis, Little Ashes and The Haunted Airman), A "Haunted Airman" Poster AND a Mini "Cosmopolis" Poster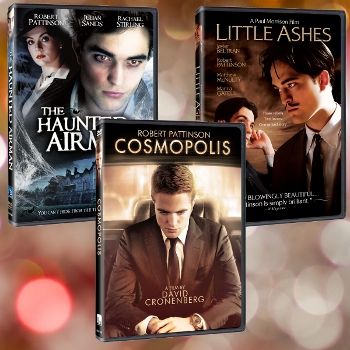 Starting tomorrow we'll be counting down to the DVD & BluRay release date of Robert Pattinson's "Cosmopolis" on 1st Jan 2013 (and from the 21st Dec to 1st Jan just happens to be 12 days so you're getting another 12 days of Robert Pattinson ;-))
You'll need to check in everyday for a question, some might be easy, some might be a little more difficult. Afterall this is meant to be a challenge right?
*whispers*

But people Google is your friend
Ahem, anyway you'll collect your answers and then after you collect your Day 3 (24th Dec) answer we'll tell you where to send them.
A winner will be picked at random from the correct answers and will win the first of the prize packs.
The same thing will happen on Day 6 (26th Dec) (again after you've collected 3 answers) and again on Day 9 (29th Dec). The final day, on Jan 1st, will be slightly different because we'll have 2 winners!
Sorry but the competition is only open to the US & Canada
So are you going to take us up on the challenge and complete "The Cosmopolis Quest"?
Tune in tomorrow for the start of it!
Cosmopolis is available ON DEMAND right now (check
HERE
for where you can find it ) and can be pre-ordered on DVD & BluRay using the links below.