Philadelphia Weekly says Robert Pattinson was robbed of an Oscar Best Actor nod for Cosmopolis + Best Of 2012 lists galore!
Recently in
Philadelphia Weekly
, they made a list of Oscar odds-on favorites and a hypothetical list of this year's best (and "best") films.
They paid Rob a compliment by including him in their Best Actor category and making note of his skills with DeLillo's language in the Best Adaption category:
Best Actor
Who should have won overall: As much as I want to say Denis Lavant, for his literally shape-shifting work in Holy Motors, no performance was as exciting as Tim Heidecker's raging wealthy dickhead routine in The Comedy. And I can't believe I'm saying this, but Robert Pattinson wuz robbed—for Cosmopolis, not Breaking Dawn 2.

Best Adapted Screenplay
What should have won overall: David Cronenberg's script for Cosmopolis makes great a so-so Don DeLillo novel, although its real power emerged when the actors came to speak their lines. Who knew Robert Pattinson was put on earth to deliver overly-stylized DeLillo dialogue?

The recognition
Cosmopolis
and Rob continues to get makes you proud. This is the most recent edition of an ongoing list I'm collecting on
CosmopolisFilm
. The lists have evened out so it's good to share now without missing some great ones. If you click the links, some of the critics have praised the film and more. I included excerpts of the ones that dished specific praise for Rob.
OVERLOOKED RANKINGS
EXTRA RANKINGS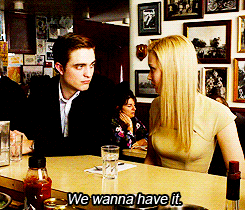 If you live near London, Ontario, Cosmopolis will be shown on March 2nd at 10pm during the Domestic Arrivals Festival. Click HERE to buy tickets and get more info.
We did extensive coverage on the fantastic Cosmopolis reviews throughout 2012. Revisit those post in the links below!