It's an honor to be compared to Robert Pattinson, LeatherPantsRob isn't done with us yet and MORE!
ETOnline
spoke to Max Irons at the premiere for
The Host
and asked him about the Robert Pattinson comparisons. He was gracious and complimentary of Rob's upcoming work in his reply:
"I can probably name 10 actors who've been compared to Robert Pattinson," Irons said at the film's Hollywood premiere. "So it's an honor -- I think he's doing very well for himself, he's got some amazing projects coming out -- so it's a bit of an honor, but I think everyone's an individual. But it's nice to be likened to him."
Check out the full video interview to hear his remarks.
Caitlin Cronenberg
recently tweeted about reaching a follower milestone and asked her followers what she should do to celebrate.
RPAustralia
had the best suggestion which she replied to with a tease laced with hope for Rob fans.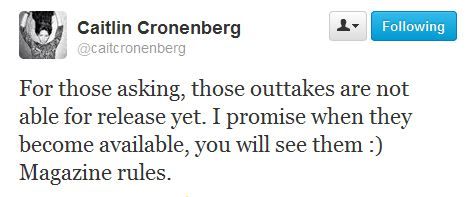 We're used to waiting around here so keep hope alive and wait a little longer for more LeatherPantsRob! Yummmmmmm.....
Lastly, there was a quick mention and compliment for Rob from an old director. From a
Harry Potter
edition for March 2013
Be The Red Carpet
, Mike Newell (
Goblet of Fire
) spoke about Rob at the
London Critics Award
earlier this year:
Sweet, brilliant, good, clever....sounds just about right. ;)