Roundup of Robert Pattinson mentions by costars and more!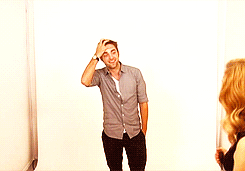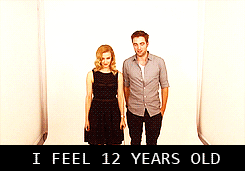 Rob's
Cosmopolis
co-star, Sarah Gadon, is on the cover of
Real Style
magazine for Spring 2013. She mentions Rob and the scrutiny that came with working opposite him plus compliments him working with Werner Herzog (
Queen of the Desert
). I excerpted the portion regarding Rob and transcribed. Visit
HERE
if you're interested in the photoshoot and full interview.
If Sarah's critically acclaimed role as the wife of Fassbender's Carl Jung got the industry's attention, her second Cronenberg role as Robert Pattinson's wife in Cosmopolis cemented her rising star status. Not only did a second collaboration with Cronenberg mean she'd join the ranks of the director's inner circle along with the likes of Mortensen, Jeremy Irons and Vincent Cassel, she became the focus of the Twihard sets' curiosity when she got close to Pattinson on-screen.

"I kept my distance, knowing that there might be a blacklash," says Sarah of working opposite Pattinson whose Twilight fan-base is comparable to Beatle-mania or Bieber Fever. "Caitlin, David's daughter, received more of a backlash because she was tweeting a lot of photographs from set, and people were speculating about their relationship and proximity. I think too that I kept such a distance that they thought, 'We're not going to find anything with this one! We'll pin it all on that one!' It's terrible that that happens too. It's terrible for him because I take my work so seriously, obviously, and so does he. It's not like you would ever compromise the integrity of your work by doing something...at least I never would. I'm boring that way."

...
Although cozying up to Fassbender, Pattinson and Gyllenhaal would definitely be a perk to most people, their hearthrob statuses seem irrelevant to Sarah. In fact, she seems more excited for her co-stars to join her in the art-house realm than anything else. When I suggest that Pattinson's work with Cronenberg has helped change the path of his career from teen heartthrob to bonafide actor, Sarah agrees. "Yes," she says with a smile. "Now he's going to go work with Werner Herzog."
More mentions under the cut!
Gavin Doyle (photographer and friend of Lindsey Lohan) mentioned Rob and Kristen. He's referencing the time when they were in NYC for
Breaking Dawn Part 2
promo. Excerpt from
New York Times
:
Last fall, Mr. Doyle returned to the same space on his 26th birthday. It had the same name but was now Graydon Carter's third restaurant, in a "soft opening" period. In the back helping him celebrate, Mr. Doyle said, were Sienna Miller, Rob Pattinson and Kristen Stewart, Paris and Nicky Hilton. "Rob and Kristen basically hosted my dinner and invited like 40 people, intimate, and most of them were Beatrice regulars," he said.
With
Breaking Dawn Part 2
now available for purchase, a few co-stars mentioned Rob as well when talking to press for the film's BluRay/DVD release. Excerpts:
Erik Odom spoke to the Oakland Press - Odom has high praise for the movie's stars, Stewart and Pattinson — a real-life couple and fodder for the tabloids. "Meeting them, I was surprised at how down-to-earth they were. It was sweet to watch them together on set," he said....Odom, a self-confessed "hopeless romantic," says he believes the appeal of the "Twilight" series is its timeless romance element — and the chemistry between Stewart and Pattinson made it a hit on-screen. "(The filmmakers) really got it right with Kristen and Rob as far as the casting went," he said. "There's been such an overlap of how iconic the characters are, but also how iconic Kristen and Rob are — both on their own. When together, it became bigger than anyone could've imagined."
Guri Weinberg was also quoted by the Oakland Press - Weinberg agreed that the actors were not egotistical. "When you walk into a big film like this with big stars like this, you wonder how they're gonna be ... how they'll respond to you," he said. "It would be a disservice to mention only the Top 3 (Stewart, Pattinson and Lautner) because the rest of the main cast were also just genuinely nice. You hear other people talking ... about how everybody's nice and all that, but on this movie, everybody really was. They were amazing people. For them to have so much success at such an early age and still be so grounded ... to me, it was amazing to see. It was an honor for me to meet all of them and work with them as human beings."
Guri Weinberg spoke to CBS Detroit - Without a doubt, fans just couldn't get enough of that on-screen romance between Edward and Bella. But what about their off-screen one. "It's a movie within a movie, isn't it," Weinberg laughed. But, that's as far as we could get. "You know, I tend to stay away from commenting on other people's relationships," he added. "You know, they're both wonderful people, and I wish 'em all the best."
MyAnna Buring spoke to omg! - "Kristen and Rob are incredibly cool, they deal with things in quite an admirable way, I think. People forget how daunting that kind of attention can be ... I don't know if [staying out of the limelight outside of films] helps or hinders them, it's such a personal choice and there's no right way or wrong way. What I love about them is that they tend not to comment on anyone else's private lives and that's why people who work with them don't comment on theirs." And while there were fans queuing outside the set to see the pair during filming, MyAnna says their fame was never an issue on set - or even mentioned. She said: "I can't remember anyone talking about it ... it was never an issue on set, no one could get on set! You had to have special access – it was like Fort Knox. We had a few people queuing outside who had placards telling us that we were doing the 'devils work', so that was kind of interesting… but the majority of fans are just so lovely." MyAnna joined the cast for the final two installments, and despite being a latecomer, she says there was never any separation between K-Stew, R-Pattz, Taylor and the rest of the cast - no matter how new you were. She added: "There was no separation, everyone just got on, it's a really nice family. I think Bill Condon (the director) has a lot to do with that, he's very inclusive.
Thanks Cyn!