POLLS: Robert Pattinson's Maps To The Stars US distribution handled by Focus World; Expected in 2015
Well I'm disgruntled.
Maps To The Stars
had a distribution swap from eOne to Focus World and it feels like US Rob fans and Julianne Moore got the shaft.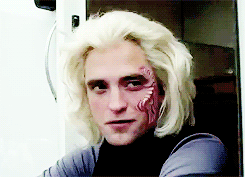 From
Variety
:
After winning the best actress award in Cannes for "Maps to the Stars," Julianne Moore was considered a strong bet in this year's Oscar race for her turn as a washed-up star in the David Cronenberg drama. But the overdue actress, who has been nominated for four Academy Awards without winning, could be sitting out of awards season.

In a deal that closed last week, Focus World picked up U.S. distribution rights to the Cronenberg drama from Canadian outfit Entertainment One (eOne), sources tell Variety exclusively. "Maps to the Stars" won't premiere stateside until early 2015.

Focus World is the alternative distribution division of Focus Features, and it hasn't been decided if the drama will be released on VOD, play in theaters domestically or some combination thereof. "Maps" could get an Oscar qualifying theatrical release at the end of 2014, so that it would at least be eligible for Academy Awards nominations, according to one individual with knowledge of the deal, but a movie with that kind of strategy can sometimes get lost in the slew of December contenders.

"Maps to the Stars" will screen this fall at the Toronto International and New York Film Festivals, which are traditionally launching pads for Oscar contenders. On Sept. 9, Moore is scheduled to appear at a cocktail event following a screening of the film at Toronto.

"Maps to the Stars" premiered at Cannes to mixed reviews, although Moore was singled out by critics as delivering one of the best performances of her career. The film is a dark deconstruction of celebrity culture and co-stars Mia Wasikowska, Olivia Williams, John Cusack and Robert Pattinson, who previously worked with Cronenberg on "Cosmopolis." Bruce Wagner ("Wild Palms") wrote the screenplay.

Co-financed by eOne and Prospero Pictures, "Maps to the Stars" was produced by Prospero's Martin Katz, SBS Productions' Saïd Ben Saïd and Michel Merkt. Sentient Entertainment's Renee Tab and eOne's Benedict Carver executive-produced the film.

EOne Films International handles worldwide rights to "Maps to the Stars," and will directly distribute the film in Canada, the U.K., and Australia and New Zealand. The movie opens in Canada on Oct. 31, and will rollout to other regions of the world starting this year.

WME negotiated on behalf of eOne with Anjay Nagpal, SVP, and Gene Kang, VP of Business Affairs, representing Focus World.
Indiewire/Thompson On Hollywood
also said this is bye bye to award season (excerpt):
Julianne Moore can kiss goodbye to any hopes she was nursing for an Oscar campaign for David Cronenberg's Cannes Best Actress winner "Maps to the Stars," which is set to play Toronto and New York festivals. Canadian distributor eOne was going to distribute the film stateside, but it has now sold U.S. rights not to Universal specialty distributor Focus Features--the arm that would handle an Oscar effort--but Focus World, their digital distribution arm, which plans an early 2015 release.

The entertaining satire of Hollywood boasts a strong cast including Cronenberg fave Rob Pattinson, who canoodles on screen with both an anxiety-ridden movie star (Moore) and the troubled daughter (Mia Wasikowska) of psychotherapist/coach to the stars (John Cusack) and his wife (Olivia Williams), who manages his son's career. Ordinarily you would expect this to have a strong theatrical release, but this kind of movie does well on VOD, with smaller marketing costs.
That's disappointing to say the least. I had hoped Julianne would get a push and we might ride that wave to OscarRob strutting his stuff in support. Oh well....
Onward and upward! Do you guys think we'll have some CannesRob4.0 next year? Where will
Life
and
Queen of the Desert
pop up?? Will
Idol's Eye
go for a run next fall??? How about we do some polling to see what we're all thinking.