Robert Pattinson praises his sister's success on the X Factor: "It's amazing. I'm SO excited about it."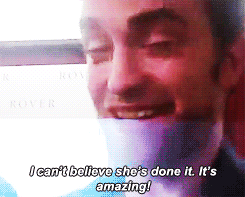 We tweeted about Lizzy's continued success on X Factor over the weekend but
ET Canada
caught up with Rob to ask how he felt with his sister advancing on the show. We already know from
The Rover
London promo (the above gifs) that Rob is crazy proud (click
HERE
for a refresh) and his joy just keeps growing!
ET Canada
:
Talent clearly runs in the Pattinson family. Not only is Robert Pattinson enjoying a successful acting career, now his sister, Lizzy, may also have a future in show-business thanks to her amazing singing audition for the U.K. version of Simon Cowell's The X Factor.
Lizzy, 31, is the Twilight star's older sister, and impressed the judges with her cover of Bonnie Raitt's "Feels Like Home."


"It's amazing,"

said her brother, on his sister being on the talent show.

"I've actually never sung with her. We have really different taste in music so we always get into arguments, but like, her being on that is the most exciting thing to happen to me in such a long time. I'm SO excited about it. She's really good."


Interestingly enough, no mention was made on the show of her famous brother, although Simon did coyly ask if they had met before. Quipped Lizzy, "In your dreams."
Simon's fellow judges liked her retort — and her singing. She received four yes votes and is off to the next round.
We'll post the video interview when ET Canada releases it tomorrow. For now, check out Lizzy's audition!
Video:
Source