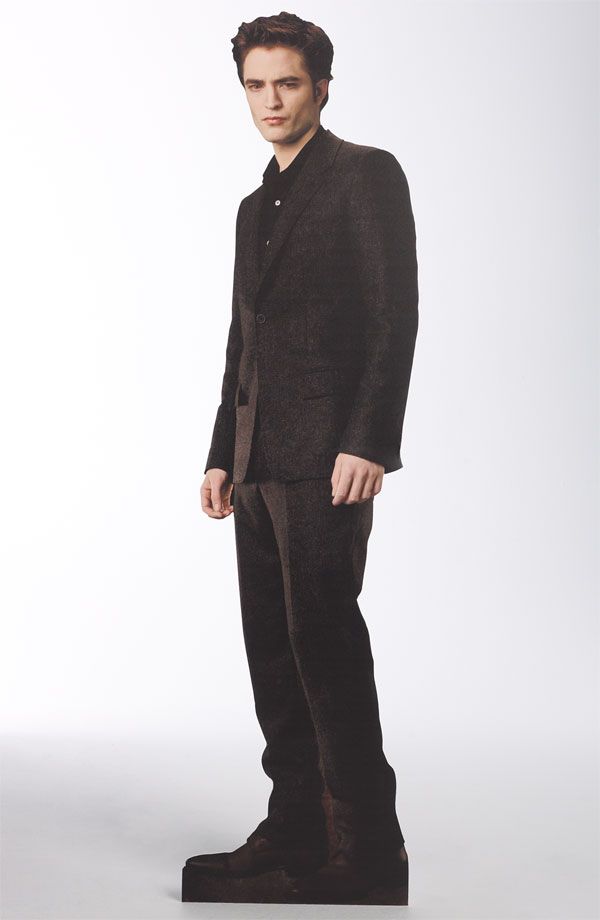 Well Cardboard Cutout Edward that is.
A CINEMA has banned fans from kissing the cardboard cutout of a film's lead actor – because they might catch swine flu.
Teenage girls had been planting kisses on, or hugging, the cutout of Brit heartthrob Robert Pattinson – who plays Edward in The Twilight Saga: New Moon – at the Reel Cinema, in Crewe.
But the fun is now over after a warning was slapped across Robert's face.(Kate:Not the Face, c'mon people)
It reads: "Please help reduce the spread of germs by refraining from giving Edward, or any other character for that matter, a kiss or hug."
Film-star Robert and American Taylor Lautner star as vampires in the box office hit,
Reel Cinemas admits the popularity of the film with teenage girls has been incredible.
Managing director Kailash Suri said: "The film was so popular that our performances were sold out for the first week.
"The girls were coming in and having their pictures taken. They were getting a bit carried away and in the nicest possible way we said 'don't kiss him'.
"The film has such a huge following."
Robert, who played Quidditch star Cedric Diggory, in the Harry Potter film series, is dubbed R-Patz in the U.S. tabloids.
Cinema supervisor Mandy Taylor, aged 35, of Shavington, said: "We put the sign up because of swine flu.
"If people started kissing him it could spread.
"We have to be more careful now. Robert is a big hit with fans. I'm reading the books at the moment. The films are great, Robert's character is very sexy."
New Moon fan James Meek, aged 21, of Crewe, added: "The film was full of emotion and the girls feel sorry for Edward and he is good looking too, so that's why they like him.
"I understand why the cinema has put the sign up but we had a little bit of a chuckle at it. It's a bit silly."
Source