Thanks to
Josefin
for scanning these for us and telling us what the heck is on which page :))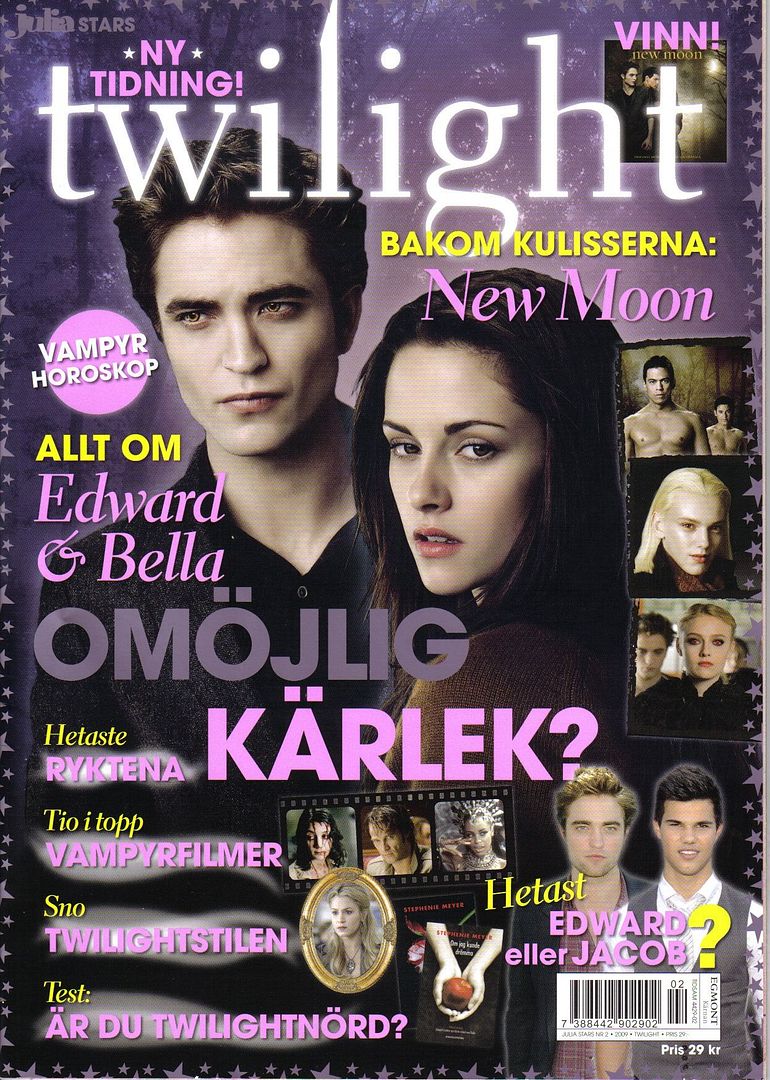 click to enlarge:




Pic 1: The cover. Everything about Edward and Bella's impossible love? (Don't know why that is a question) The hotest rumers. Top 10 vampire movies.

2. Nope, nothing exciting :)
3. New best friends. They write about Kristen and Nikki being best friends but that Dakota might be taking over the spot. Below the pic of Rob and Tyra they write that Rob bit Tyra and left a bite mark on her neck.
And then of course, the love, or not, between Rob and KStew. Same gossip as always.
4. Facts about vampires and werewolves according to twilight.
5-6 . Just some talk about twilight and new moon.
7. More gossip. Links to some twilight sites online.
8. "The stars"
9. Facts about KStew. Really old info, and not all correct.
10. Facts about Rob. Also old and not just facts. I wonder how they get their info.
11. Facts about Taylor.
12: "the rest of the stars" Jamie plays Caius Volturi (LOL, Guess they think volturi is a last name) Dakota is playing Jane Volturi. Same mistake as in other articles.
13- 14. How to look like Kristen.
15. How to get a vampirel ook.
16. Do I need to tell you? ;-)
17. As above :-)
18. The music in new moon. Lykke Li is swedish. (Very strange. Never, ever heard of anybody named Lykke in Sweden. Maybe she has Norwegian relatives)
19- 20 Bitten by a vampire? Top 10 vampire movies. (A Swedish one at 9. Let the right one in)
21- 22. Behind the scenes.
23 Twilight geek? Questions to let you know how much of a twilgiht geek you are.
24. Contest
25- 26 Horoscope
27- 28 "who would you pick" Jacob or Edward. "who's your dream date?". Team Taylor or team Robert.
29- 29 ½ Hot rumors. Robert, single or not. Lots of talk about girlfriends, boyfriends, ex's and so on. Nothing new, I think.
30- 31 How it all started and a sneak peak into the future. Still, nothing new.