Courtney Love Thinks The Idea Of Robert Pattinson Playing Kurt Cobain Is "Stupid"
Really Courtney? It's not long ago that you were trying to hook Rob up with your daughter REMEMBER??? (in case you don't, because I know what your memory is like Courtney, have a look
HERE
)
Do I sense a little sour grapes here perhaps??
Did Rob not come knocking on your door after you pushed your daughter in his face in every magazine you could get to listen ? NO? WHAT was he thinking I wonder?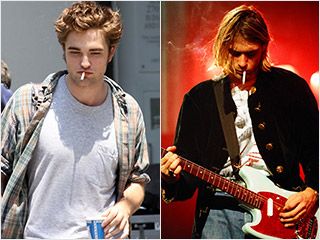 From
EW Popwatch
Courtney Love has described the rumors that Robert Pattinson could play Kurt Cobain in a proposed biopic of the Nirvana singer as "stupid." "Isn't that so stupid?" Love told the Canadian Press of the casting scuttlebutt, "That's just so wrong." The Hole singer, who is also of course Cobain's widow, said that she recently watched "the Twilight stuff," and that "it resonates with the teenaged girl in me," but that she would prefer the role go to either Ryan Gosling or James McAvoy.