Slovenian Magazine Scans Featuring Robert Pattinson
Stop - 14. April 2010

Remember Me
Except for his roles in Harry Potter and Twilight movies, Robert Pattinson' s work is less known.
Remember Me will tell if young Brit can attract his fans as a mortal person.
From hero to ordinary guy
The role of emotionally confused young man suits him well. Twilight fans who are used to see him as a romantic virgin are going to be surprised.
Remember Me teaches us that love can save us. Do you believe in that power of love?
Definitely, people we love make us feel safe and supported. they help us find ourselves. Ally shows Tyler the right way to live. When she's around, everything is right. This works in
real life as well.
How do you manage to stay grounded around all the worship of your female fans?
It' simple. I'm scared of it so I freeze. No, I'm kidding. I can't take this enthusiasm for real.
Girls don't fall in love with me, they fall in love with the characters I play. I'm definitely not like Vampire Edward or Tyler.
In Remember Me drama you play an ordinary teenager for the first time. Is there a piece of Robert in this role?
At first I was excited not to play a romantic role, it's easier to improvise or follow your instinct. But I couldn't find any similarities between me and Tyler.
Do you consider yourself a slave of your success? Would you sometimes like to go back to the beginning of your career?
No way. I like my profession. The only thing I don't like is the lack of anonymity. In the movie there are scenes where I just walk the streets and don't think about anything. Sounds simple? It's not if there are 50 onlookers staring at you from 10 metres away and photographing, while you walk the street and the camera rolls.
Is it easier to meet pretty girls as a movie star opposed to an ordinary guy?
On the contrary, it's much more complicated to meet women who are really interested in you. You can't rely on people being honestly nice to you.
How do you decide whom to trust or not?
It's simple, if they call you the moment you give them your phone number, you can forget about it. People who use that circumstance aren't trustworthy.
On your first date, what do you say first?
Nothing at all. I wait until she says something. You should always listen first
and find out what she wants to hear before opening your mouth.

Big Thanks To Darja for scanning and Translating these for us

Loads more after the cut

Vikend - 17. April 2010



Click for Larger


1. Rob, as dark as before, but less pale
2.Movie stars or shooting stars? Robert Pattinson started as a cute teenager in Harry Potter and became the most adored young actor. Will his status last - his inspiration is James Dean - we asked ourselves and also contemplated other young stars that grown into adults in front of our eyes.
3. Remember Me movie
4. and 5. Young actors, stars or shooting stars?
Every generation has child actors and sometimes they turn into superstars (like Jodie Foster) or fall into oblivion and next time we hear about them is when they die a tragic death following addiction of any kind (like Corey Haim). Here are some child actors of our generation and we wonder, when we will hear about them again...
Robert Pattinson was noticed at the age of 19 as young Cedric in fourth Harry Potter movie. Robsession began with Twilight movies franchise. Now we can watch him as Tyler Hawkins in romantic drama Remember Me.
Our prediction: Attend acting classes or his fame will last only 10 years or so.
New James Dean?
Robert Pattinson wants to be new James Dean, they say. Robert didn't deny it and said who doesn't like Dean. Looking serious, slightly tragic and sporting untamed style Rob found insipration in James Dean, as photos below confirm.
Predictions for others:
Macaulay Culkin: his career is probably over. We can't decide if it's because a cute kid didn't turn into a handsome young man or it's because the teenager couldn't handle the situation
Ellen Page: the girl isn't just pretty, she can also act, successful career is probably waiting
Olsen Sisters: as actresses they probably won't make enough retirement money, but they can always star in a travelling freak show
Harry Potter trio: it won't be easy to loose HP legacy, but we think Emma will be the first one to let it go, we aren't sure about the other two
Dakota Fanning: she'll be the next Jodie Foster
Kristen Stewart: decent career, probably not many Oscar nominations
Lindsay Lohan: rehab asap or we'll hear more and more about indiscretions or even something more tragic. We can be wrong and Tarantino's Machete can send her into star stratosphere once again.
Lady - 14. April 2010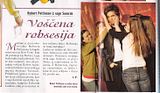 Wax Robsession
Female Robert Pattinson fans have probably already bought a plane ticket to New York. Robert is expecting them there and they can touch him - not him, but a wax statue on display in Madam Tussauds in NYC.
It took 4 months to make a statue and it cost 300,000 dollars. Premiere of the third part of vampire saga, Eclipse, is announced to be on 30. June. But you can cuddle with Robert before that, in a Remember Me movie, in cinemas now.
Each in their own movie
Robert Pattinson was promoting Remember Me in London with costar Emilie De Ravin, while his vampire love (and rumoured real life love as well) is promoting The Runaways with Dakota Fanning.
Obrazi - 25. Feb. 2010

BAFTAs
Robert Pattinson head to toe in Gucci
Even if this Year Angelina and Brad didn't show up, the ladies of Britain enjoyed the sight of the hottest Brit actor of the moment.
Premiera - 14. April 2010

Remember Me is a warm tale of love, power of family and importance of every single day of life. Even when it looks like everything is against us.
- the rest is spoiler zone -
Nova - 12. April 2010

Robert Pattinson will have to eat
The actor will look even better than before in his new movie. Producers said he is too thin and will have to work to expand his muscles. The 23 year old decided to follow a special poultry and protein rich diet. A source said: "Rob is a special client of Nando chain New York's restaurant. Other guests can't believe he eats in their neighborhood, and they are even more surprised at the amount of food he can eat. He's crazy about poultry."
Pattinson recently explained he doesn't understand his sex appeal. "I don't feel sexy at al. I can't put mysef in this context."
Smrklja - April 2010

"Remember me" is movie of the month

Pilot - 10. April 2010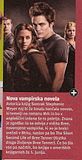 The Short Second Life of Bree Tanner by Stephenie Meyer, a new story about newborn vampire that readers already met in Twilight should be in US stores by July 5.
People Style Watch - March 2010

Slovenian Remember Me Poster