Robert Pattinson and ROBsessed blog bringing people together!!! A group of lovely ladies who are regulars in the comments here at the blog, had a great experience meeting up at the Eclipse premiere... and the icing on the cake was Rob just inches away!
Here are a few of their photo's and below the cut read their full story, Tent City, Twilight Stars and of course ROB! I'm thinking 12 ladies in LA were dazzled that day :-)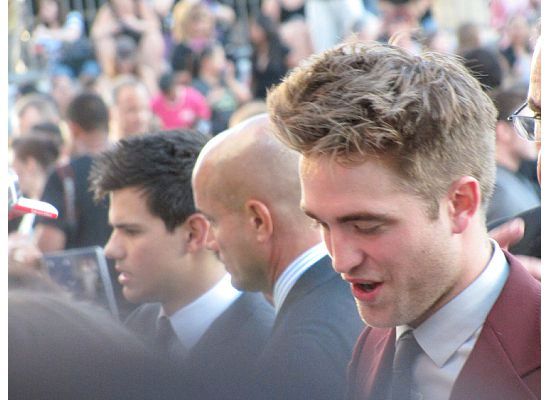 Read their story after the break...
Our Story
First, we must thank Mr. and Mrs. Pattinson, because without their magical conception, none of us would have been in Los Angeles for the World Premiere of Eclipse. Second, we must thank the amazing ladies who run ROBsessed, Gozde, Kate and Kat. Without you, none of us would have ever met.
(Kat – this makes us smile real big!)
We came from far, far away and close by to meet one another (most of us for the first time) and go on this great adventure together. AnnieEvilRobPornPusher and dessertfirst came from Sweden and England and the rest of us came from various parts of the U.S.
Rob
Wow! Due to our wristbands being #48-60, we were in the front row. We waited in line to wait in line to get those wrist bands. We don't think we have to tell you how worth the wait it was. Because we had such high wristband numbers, we were in the front row on the barrier. We could see everything. It was cool watching it all being set up, and seeing all the photographers and entertainment reporters.
From the moment it was announced that Rob had arrived, the energy level outside the Nokia Theater on the plaza went up about 100%. That lovely Gucci maroon suit really helped us pick him out of the throngs of people surrounding him. Annie, who was the first of our 12 along the barrier, turned to us and told us that Rob had on a maroon jacket. Admittedly we were perplexed. Maroon? Really? Leave it to Rob to shock the Twi-world and wear something that no one would have predicted. He totally rocked that suit!
(Kat – I couldn't agree more – I heard 'maroon suit' on twitter and the wait to see the first pic was agonizing – but yes, he rocked it.)
It looked so beautiful in person….more on that in a moment. It felt like forever before Rob was close to our section of the fan viewing area. In reality, it was like 15 minutes of watching him sign for the fans in line before us, and then go have his picture taken by the photographers.
*Deep breath* Rob was at our section. He is flanked by Summit security. He is being as gracious and as lovely as you imagine him to be. He is interacting with the fans, talking, signing autographs, smiling and giggling. He glows. He has the most positive aura around him. When he is one foot in front of you, he just blows your mind.
(Kat – ain't that the truth?)
It is positively an unexplainable feeling. He signed an iPhone, pictures, a poster, a screening ticket and a book for us!!! He took two pictures (some of us who were able to form a coherent sentence, asked him for one), and he had 15-second conversations with us. Those 15-seconds he is in front of you (the best 15-seconds ever!), left us shaking and one of us in tears. He truly dazzles you. Your mind goes blank. We know we were there and that he was indeed right in front of us, talking to us, but when he looks right at you, that moment in time becomes kind of fuzzy. The camera loves Rob, but pictures don't do him justice. He is stunningly beautiful in person. Everything you think he is in pictures, interview and videos, well, he is a million times better in person.
Now back to the Gucci suit. We read that some people thought it was awful and that's okay, it's your opinion. Let us just tell you that in person, it was magnificent. The fit, the style and the color, the color in contrast to his skin and hair, well, it was just perfect. Speaking of his hair, it is slightly reddish with some blond and light brown running through it. Speaking of running through it, he ran his hand through his hair in front of us! We all almost passed out. His stubble (so yummy) is blond. His fingers…gah! Long, lean and beautiful, just like Rob. He had some cuts on his fingers, we are assuming from the WFE set. We should also mention his shoes. They were huge.
(Kat – I'm impressed you were able to take your eyes off his face, I couldn't!!!)
It was a day none of us will ever forget. Robert Thomas Pattinson does not disappoint. He is truly a presence. He is a force. He is Rob.
Eclipse
We know most have seen it by now, and everyone loves it, and you should, it was everything we hoped it would be. This was a very emotional experience for all of us. There was about a minute where we thought we didn't have 12 tickets and all of us wouldn't be able to see it, but then a lovely man from Summit brought over three more tickets and all was right with the world. We walked into the Nokia Theater to see the World Premiere of Eclipse! The theater holds 7,000 people. As you can imagine, it was a very vocal crowd. Team Edward definitely had more fans. The audience laughed and cheered and applauded at all the right places. There were a lot of sighs and OMG's from the crowd during the Edward & Bella scenes and the Fierceward scenes. The audience gave Mr. David Slade a very deserving standing ovation at the end. We still can't believe we were there.
Tent City/Vamp Camp – Camping on concrete.
We camped for 3 1/2 days!!! On concrete! Our sore backs, legs and hips were all forgotten once the premiere started. We had sleeping bags, chairs and two tents. Outside of being within one foot of Rob, Tent City was the best experience. It was great to be around 600 like-minded people. You felt free to talk all things Rob and Twilight and not have to feel ashamed or have people give you weird looks. There's nothing like having to get up in the middle of the night and walk in your pj's, in downtown LA, to the Ritz or to Starbucks to use the restroom. We met so many cool people and some really strange people, too.
Summit moved us from the plaza on Wednesday so the crews could start setting up for the premiere. All of Tent City was moved into the street in front of the Staples Center. Summit really did some nice things for the occupants of Tent City. We got to meet Peter Facinelli, Billy Burke, Jackson Rathbone, Charlie Bewley, Tinsel Korey, Julia Jones, BooBoo Stewart, and some more of the Wolf Pack. Two of us caught Charlie Bewley on his way over to Tent City, and got pictures with him. He asked us how long we had been there and where exactly Tent City was! We kind of escorted him into Tent City and left him when the fans went crazy. Summit showed New Moon on the jumbo-tron screen one night, and we got to see the Eclipse soundtrack concert the next night.
We love this blog so much. It is our happy place. We hope more of you can join us for the Bel Ami premiere. London, baby!
Hugs,
AnnieEvilRobPornPusher, Angie-K, CullenLover, dessertfirst, Eclips7, lcrimm, lcargile, ModestyPatch, RPattzgirl, TwiCougar, Wensdazzled & Womadsart