Robert Pattinson Is Top Of The Snogs
You knew that already I hear you say? Well I'm actually talking about his wax-a-not-alike not Rob himself. I would not want to plant a kiss on this thing, it still freaks me out a bit :-} The real thing however i would gladly kiss!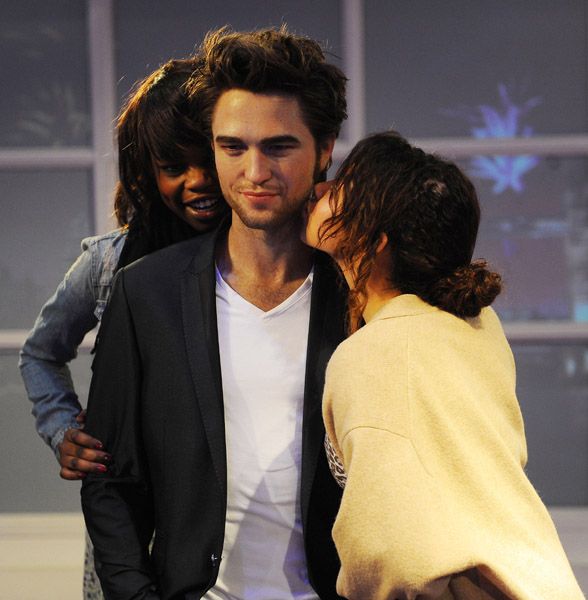 Robert Pattinson is top of the snogs - after being named as the star whose wax likeness landed the highest number of kisses.
The Twilight heartthrob's figure at London tourist attraction Madame Tussauds has been identified as the most kissed by visitors over the past year.
The actor beat second placed Harry Potter star Daniel Radcliffe in the list to mark National Kissing Day on Tuesday.
The top female star was named as Dame Helen Mirren.
Staff at Tussauds compiled the list from their own observations as fans pounced on the models and also from maintenance records - to see which figures needed to be cleaned most often.
Guests often plant a peck on R-Patz's cheeks as they post for photos, they said.
Spokeswoman Liz Edwards said: "A lot of puckering up goes on here at Madame Tussauds London and our studios team are on a constant clean-up mission where some celebrities are concerned.
"Robert Pattinson has been an instant hit with the ladies since he joined the attraction in March and Daniel Radcliffe has attracted more and more attention from female fans as Harry Potter fever starts to build up in the run-up to the final film release.
"Dame Helen is a hit with men and women alike, and although she doesn't get the lipstick marks Daniel and Robert do, guests go out of their way to plant a peck on her cheek."
The venue also polled visitors about the stars they would least like to kiss, with England football manager Fabio Capello topping that list. Britain's Got Talent judge Amanda Holden was named in second place, while her fellow panellist Piers Morgan came fourth
Source
Press Association