A huge thanks to Darja for the scans and translation. If you have magazines in your own language and would like to share them with us, we'd love it! Just send the scans and the translations to our
TIP LINE
:)



Glamour Germany

asked their readers what they'd do if Robert Pattinson was to fall in love with them. 39% thought it would be so romantic while 42% said he didn't shower enough to be their lover. Well, even though I think 61% of Glamour readers are out of their friggin' minds this poll also means less competition for us ROBsessors :)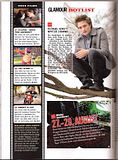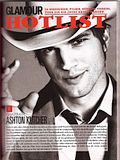 Glamour - Germany, August 2010
What if....
Robert Pattinson would fall in love with you?
42% I would be flattered, but I would brush him off, he doesn't wash often enough
19% I would inform the media and sell my story to the best offer
39% So romantic! I would keep out love private!
------------------------------------------------------------------------------------------
Glamour Hotlist
34 people, books, movies, trends you talk about right now
27 - Eclipse: What else can we say, movie tickets are selling selling... until the last vampire opponent gives in
33 - Wings instead of sharp teeth: vampires are all the rage at the moment, but angels are getting more and more popular
Stop - Slovenia, 7. July 2010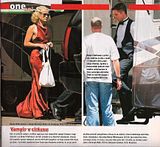 Vampire In The Circus
Robert Pattinson gained hearts of many screaming teenage admirers as a romantic vampire in Twilight saga. Now he wants to prove himself as different: since may he is shooting Water For Elephants based upon the novel of Sara Gruen, together with Reese Witherspoon and Christoph Waltz.
Lady - Slovenia, 7. July 2010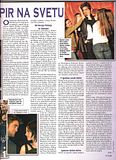 The most beautiful vampire in the world
Robert Pattinson, pages 20 - 21, "I always wanted to be like Jack Nicholson. I've seen him in One Flew Over The Cuckoo's Nest when I was 13 and started to dress and talk like him."
photos / from left top, anti clockwise
1.He was in Harry Potter and the Goblet of Fire with Daniel Radcliffe
2. With Kristen Stewart in a scene from last year's New Moon
3. He moved away from mystic heroes with a role in Remember Me, he finally got a chance to show his true feelings
4. Messy hair, blue eyes and 185 cm make the actor one of the most beautiful in the world
5. His fans are not only teens but their mothers as well
6. With Kristen, they are like one entity, in love and happy.
7. His wax statues in Madame Tussuad's in NYC and London are among the most popular, fans like to touch his face
8. Popularity of his vampire beauty requires him to leave his hand-print everywhere he goes,
also in Planet Hollywood in L.A.
Summary of the article:
British star Robert Pattinson is the biggest movie star due to the popularity of his vampire role in the Twilight saga. Euphoria around him can be only compared to the one that happened around Leonardo Di Caprio around Titanic success. There are 25 security guards on the set of his movies, and when fans got to him, they offer him their necks or even vials of their own blood.
Obsession isn't limited to teens only, middle aged women established Twilight Moms and claim Robert improved their sex life, he makes them feel 8, 14 and 31 years at the same time.
There are six unauthorized books published about him and a documentary Robsessed.

He doesn't like that much attention, fans are all right, but paparazzi are awful.

He was first noticed in the role of Cedric Diggory in Harry potter movie, after that he got a role in theatre play The Woman Before, but he did something really strange rehearsing the role, director didn't like it and he lost the role right before the opening night.

He wanted to quit acting, made some films (How To Be, The Haunted Airman, Little Ashes), tried to enter the music world, but wasn't very successful.

His life changed after he landed the role in Twilight. He was suddenly a star and one of the most sought after actors of Hollywood.




We are waiting for his movie Remember Me to hit theatres this year (Darja: no, it already premiered !!! some of us are waiting for DVD release).




He recently finished Bel Ami. "The cast was amazing. Christina Ricci, Kristin Scott Thomas and Uma Thurman and I've slept with all of them," Robert bragged. (Darja: really, when did he say that ???? really Gozde: Way to spice up the article :) They are talking about him sleeping with them for the movie but it wouldn't be a sensational quote if they included that little bit :))





Now he's making Water For Elephants with Reece Witherspoon and Christophe Waltz, later this year he will be shooting fourth, last part of vampire saga, Breaking Dawn. After that there is a western Unbound Captives, and he chose it because his father is obsessed with the genre.

Robert didn't change much since his Harry potter days, he is still shy. He started acting to meet more girls.

He wanted to be professional musician and his dream was to play a piano in a bar in South of France.

He's so obsessed with Van Morrison he wish he can play him in a movie.

He lives between London and L.A, supports football club Arsenal, his family is mom Clare, dad Richard, sisters Elizabeth and Victoria...

The only thing he is not willing to talk about is his love life. His romance with costar Kristen Stewart interests journalists the most, but all he's willing to say is: "Kristen is amazing, I wanted to work with her since I met her for the fist time. We liked each other immediately."

They fell in love during the shooting of Twilight. She had a boyfriend at the time. but Robert was persistent. "I asked her out many times before she said yes," he admitted in a moment of weakness. Later he stopped talking about it. They were secretive about their relationship during New Moon and Eclipse. He was seen in public with many beauties like Camilla Belle and Anne Schoenberger (

Darja:

really, Anne again Gozde: It's never gonna end :) The girl had the publicity of her lifetime with that rumor) and ex-girlfriend Nina Schubert, but it was all just to divert attention away from Kristen. The latest news is they're looking for a house in Los Angeles where they will live together
Plus - Slovenia, 2. July 2010
1.) Twilightmania - from the scientists' and psychologists' point of view




2.)Movie crumbs: Robert Pattinson wants to act in theatre and be considered a serious actor




3.) Gossip: Eclipse premiere