Vintage Car Owner Talks About Driving Robert Pattinson
Instead of "Driving Miss Daisy" it's "Driving Mr Pattinson".
Now where can I apply for that job? I think I'd be good at it!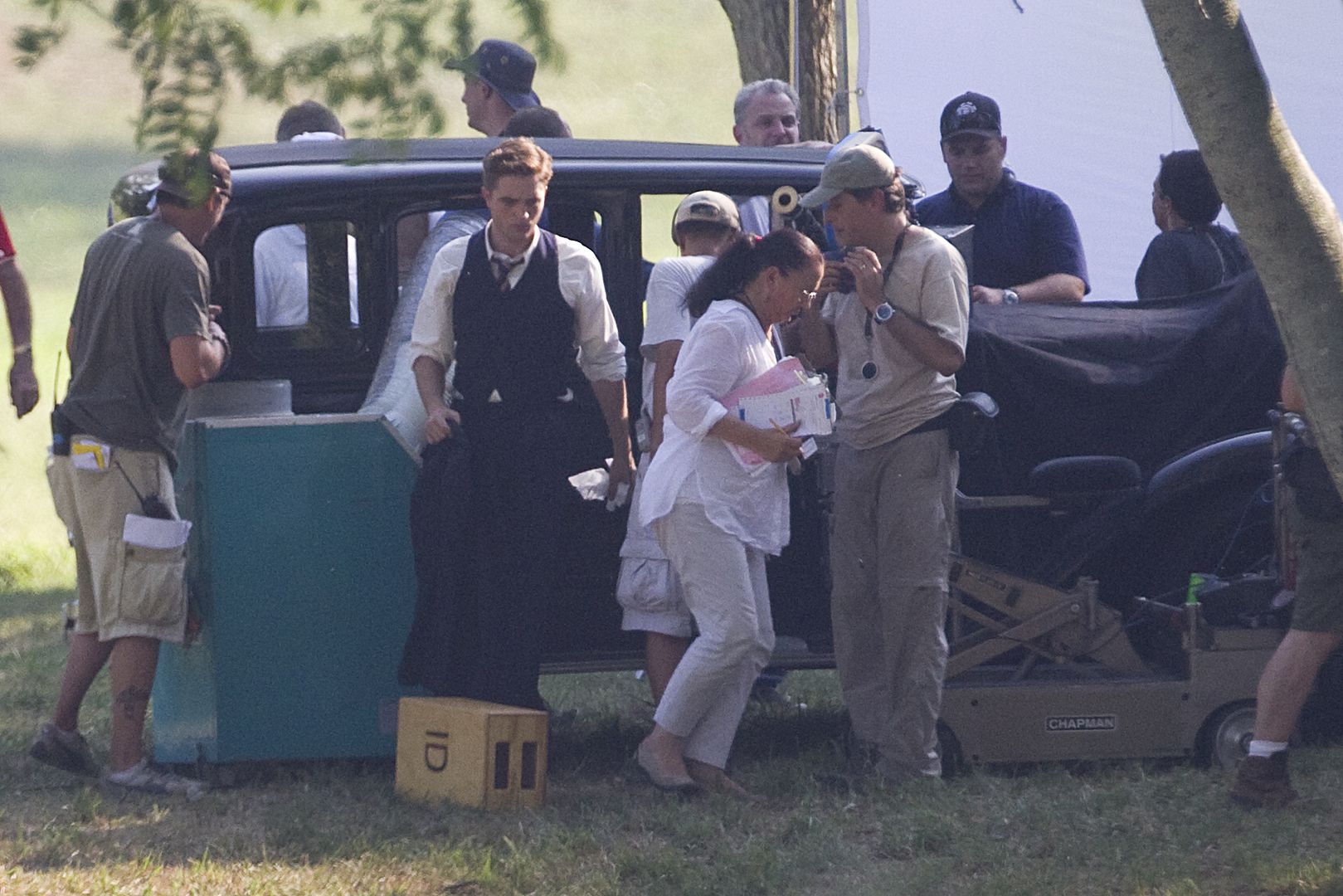 Only the parts mentioning Rob. Go
HERE
to read the full article
Teenage fans of British heartthrob Robert Pattinson would have paid a premium for a Hillsboro man's seat Friday in a rural area outside Chickamauga, Ga.
While the teens gathered with their cameras at a blocked-off road leading to a movie set at a farmhouse, Eugene Glenn sat behind the steering wheel of a 1930 Model A Ford as members of the crew gave him a push to start his car. Pattinson, 24, who appears in "Eclipse" with Kristen Stewart, sat in the passenger seat.
"I didn't say a word to him," Glenn said, "and he didn't offer any conversation."
Filming scenes of "Water for Elephants" brought Glenn to the cattle farm about 28 miles south of Chattanooga, although the story from the Sara Gruen novel during the Great Depression originates in Tompkins County, New York.
Pattinson, the star of the "Twilight" movie series who appeared in two Harry Potter flicks, portrays Jacob Jankowski, a veterinary student shy of a degree who abandons his studies after his parents are killed and joins a third-rate traveling circus as the veterinarian. The story unfolds as Jacob meets Marlena Rosenbluth, a beautiful equestrian star played by Reese Witherspoon, and her husband and animal trainer, August, played by Christoph Waltz.
The behind-the-scenes saga for Glenn and his wife, Rita, began when Scott Owens, a Trinity firefighter, responded to a Craigslist ad placed by David Tinsley of Ragtop Picture Cars in Lebanon, Tenn.
On Thursday morning his wife, Kim, also a Trinity firefighter and EMT, and their teenage daughters joined him in taking the Plymouth to the set. The Glenns transported their Model A.
"We had to be there Thursday to get the car checked out," said Glenn, 74, a retired farmer who served on the Morgan County School Board for five years. The crew transformed the vehicle into the Tompkins County sheriff's patrol car.
"They removed my tags and put on a New York license plate," Glenn said. "I had to take off a third stop light in the rear window to make it look authentic but that wasn't any trouble. We returned on Friday about 8:30 a.m., and they began shooting about 3 p.m."
"Every time they wanted to move the car, I drove it and repositioned it," Glenn said. "After they finished with the still shots, I moved the car down to where they were going to do the moving shots with Lauria and Pattinson. I cut the car off and got out. When they got in, the car wouldn't start."
While the Glenns and Owenses had limited access to the actors, they got the royal treatment for the trip.
"They had a tent on the set with water and snacks and a caterer served a full buffet meal Friday," Glenn said. "They served Robert in his trailer. Reese Witherspoon was never on the set for our one-day shoot."
Owens said it was a fun time for both families, especially their daughters, Margaret Thompson, 15, a sophomore at West Morgan High School, and Brie Ann Owens, 13, an eighth-grader at West Morgan Middle School. He said they were the only teen girls on the set. The movie has a release date of April 15.
Source
Decature Daily
via
H20 for Elephants