WFE Extra Jonathan Moore Talks About Working With Robert Pattinson & What It's Really Like On The WFE Set
Our reader Manna told us about this article that was in her local newspaper.
It's written by Jonathan Moore A Campbellsville, Ky. native. He's a writer and a filmmaker and got to play the tall man in WFE.
I've only included the parts where he talks mentions Rob. Make sure to check out the full article
here
.He gives great insight at what really goes on behinds the scenes of making a film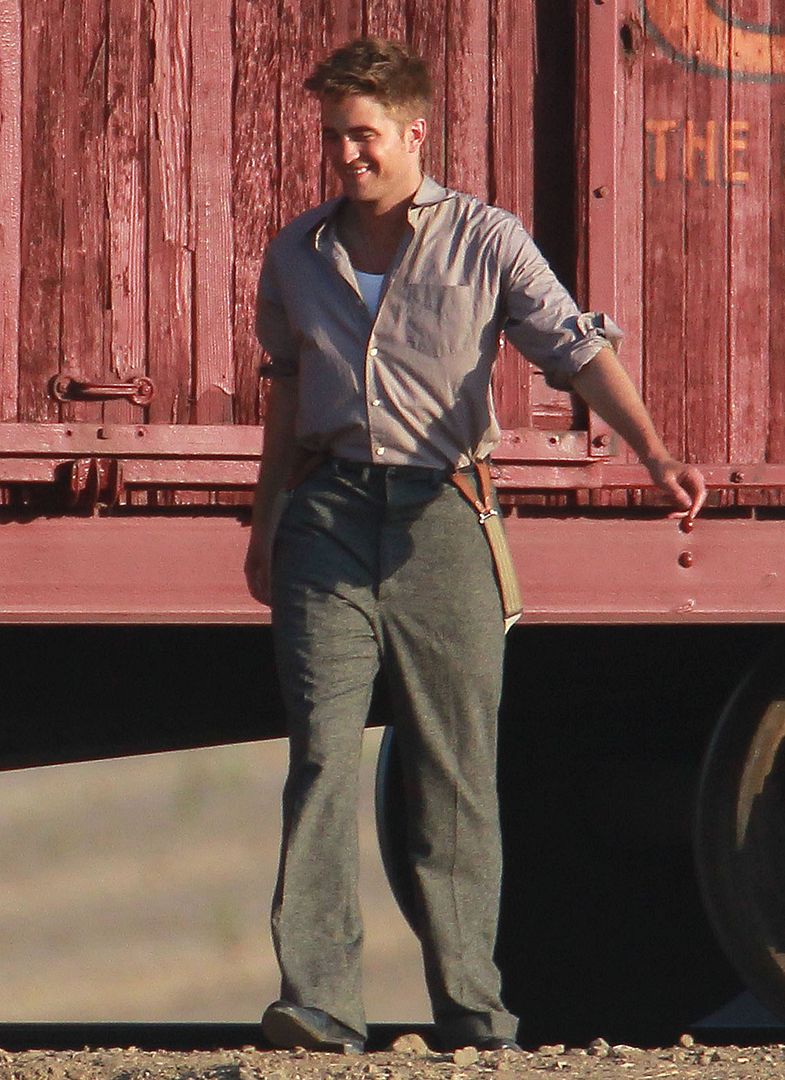 Photo Credit:
FAME Pics
Robert Pattinson stood inches from me. Reese Witherspoon and Christoph Waltz, both Oscar winners, were only feet away. Directly in front of me, and behind the camera, sat Rodrigo Prieto, an Oscar-nominated director of photography.
I should have been completely awestruck at the level of talent that surrounded me. Yet the only thing I could truly focus on was my aching feet and legs due to the flat slippers the wardrobe department had given me to wear - and having to stand on them for hours on end.
Playing the Tall Man, a non-speaking, featured-extra role in the film "Water for Elephants" proved to be equal parts fun and exhausting.
Based on the popular book of the same name by Sara Gruen, the story is about a young man who joins a Depression-era circus. I was cast as a part of a group of sideshow performers that included a midget, Wolfboy, the Fat Lady, the Strong Man and a couple of contortionists.
My job was to be present in the background and, in some cases, right up next to the lead actors. I suppose my claim to fame was the scene in which I and a few other men physically shoved Pattinson to the front of a group of circus workers so that he could be properly "initiated" into the circus life by being sprayed with water, pelted with pies and kissed by the showgirls.
But there were other scenes, too, including one on the sleeping car of the train, another when I stood with Pattinson and a few others and watched Witherspoon cavort with an elephant.
There is a chance that I will be seen on screen. But, being familiar with filmmaking, I understand that there is an even better chance that I will not be seen. Wait and see, I guess.
It was fun to meet and work with such talent, including director Francis Lawrence. Yet the thing that I found most impressive - as I always have - was the extraordinary work ethic of the crew.
Behind the Robert Pattinsons, Reese Witherspoons and others is always a multitude of men and women who exude professionalism and redefine what it means to work hard. They are the ones whose names roll later in the credits, long after most have risen from their theater seats and gone home.
Source
Central Kentucky News Journal
And thanks again to Manna for sending us the tip.