How does David Cronenberg describe Robert Pattinson? Intelligent. Sweetheart. Ferrari. Serious Actor. Cinephile. PLUS More Best Of lists for Cosmopolis!
Are you excited Rob and David are working together again?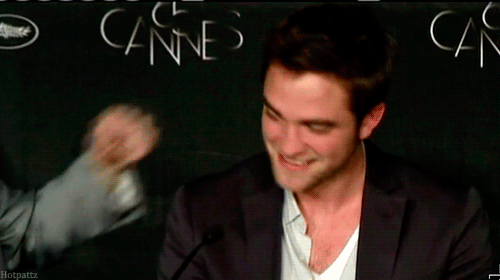 *giggles* I hear the resounding YES. Well here are two great interview excerpts from David Cronenberg that will make you giddy for Robenberg 2.0. Can't wait for these two to get together again to make
Maps To The Stars
.
You also said the characters of Cosmopolis attracted you. What was it about Eric Packer's character that resonated with you?
For me, the whole idea that you must have a character who is perfectly sympathetic, is a very crude, and a very uninteresting kind of approach to cinema. I think the character has to be very interesting and fascinating and charismatic. I mean, he has to be somebody you want to watch and see what he says and see what he does.
So what's interesting about DeLillo's book is that all the way through, the characters are not particularly sympathetic in an obvious way. But by the end of the movie, you see that this character is, somewhere inside there, a very naïve, vulnerable child, who's only going to get a haircut, but what he's really going back to his childhood. He's going back to the barber who gave him his first haircut. And when he's there, you begin to see the innocence that's there underneath the hard surface, and I think it's a really interesting transformation and transition that you see in this character. At the beginning you think that this guy is very unemotional and hard and cold, and cynical perhaps. And by the end of it, you see that there's a lot of emotion and a lot of vulnerability underneath there and the character turns out to be far more complex than you might have thought.
A lot has been said about your unconventional choice of Robert Pattinson for the lead role.
The thing I liked about Rob Pattinson as an actor is that he's a serious actor. And you could lose sight of that, because he's had this big popular success with the Twilight movies, but he is not afraid to play a character who is difficult to like, you know, because some actors are afraid to do that, because they feel it is too personal, that they themselves will not be liked by their audience, and so on. But a real actor is not afraid to play an unsympathetic character, and Rob is a real actor.
Also, I think to be an actor, you need intelligence, first of all. For example, Rob immediately realised that the script was quite funny, and most people don't get that. Then you want sensitivity to the subtleties of the movie, in terms of what is going on in the movie, the dialogue and so on. And Rob, personally, is very knowledgeable about cinema.
(chuckles) I don't think his Twilight fans realise this about him, but he's really an aficionado about art cinema (Tink: Well, David is clearly not talking about the Robsessed. *wink*). I mean, on the set I'd find him talking to Juliette Binoche about obscure French cinema, (chuckles) so you know, he brings a real depth of understanding of the history and art of cinema and all of those things mean that you have a lot of power and a lot of responsiveness from your actor as a director. It's like driving the Ferrari instead of driving, you know, a Volkwagen Beetle. And you get that with Rob. I must also add, he's very down to earth and very easy to work with. He's not diva at all, you know. He's really a sweetheart. (Tink: I think David is campaigning for the ROBsessed Awards next week!)
David also spoke to
Some Came Running
in detail about
Cosmopolis
. I enjoyed this read beyond the quick Rob mention so check out the full interview at the source if you want to have more insight into the film and David's thoughts. He is Rob's future director again after all. :))))
SCR: A lot of people didn't see the irony or the satirical posture behind you and Pattinson ringing the bell at the New York Stock Exchange.
CRONENBERG: Yeah, I know, some people thought that we were betraying the movie by doing that. I thought, no, no, you're really not getting it at all. That was so perfect. I couldn't believe when they were asking us. But that was the perfect expression of capitalism. They were lovely there. They were so excited, they love their Stock Exchange and, after all, we were selling a movie and selling is what they know. So it was all perfect. A capitalistic enterprise, and there we were. Yeah, it's interesting, because Don and I on panels, in a way, that's when I kind of learn some things about his attitudes to things that I didn't really know or need to know but I'm curious about. We both don't feel that being a prophet is part of our job description. But if your antennae are sensitive enough to what's in the ether, you will inevitably anticipate some things that are just sort of accumulating but are not all that visible. And I think that's really the case here. As Don took pains to say, no, the book didn't begin with some grand, grandiose concept of coming to terms with financial responsibility globally and all of that kind of thing. It had to do with limos. It had to do with who would want one of those in the streets of Manhattan and why would you be in it, and who is it—and where do they go at night, and all of that kind of stuff. It begins with details. And it's the same with a film maker even more. You cannot film an abstract concept. We're in the concrete world, film makers.
And what are people saying in the concrete world about
Cosmopolis
on
Best Of
lists?
It charts, Rob!