Robert Pattinson is lucky to have had some wonderful support again this year from outside the fandom. A couple make the list for the second year running... and a couple of newbies too.
Josh Horowitz:
Josh's coverage of Cosmopolis showed us he's on the Rob train for the long run, MTV First and
red carpet interview
to name a couple. Pretty sure we can count on Josh for more.
Click the image for some Josh Cosmopolis love
David Cronenberg:
As recent as just a couple of days ago we've had so much love and praise of Rob from David. Quite the bromance. Then of course casting Rob in
Maps to the Stars
says it all.
Click on each image for some Cronenberg support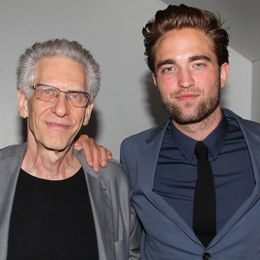 Cosmo Fanboys Galore:
Seriously, there are so many. So many guys shocked by Rob's performance and impressed enough to tweet their approval. Loved seeing their thoughts roll in and we know there will be more next week when Cosmopolis comes out on DVD.
The R Team - Nick, Stephanie, Dean, Sarah and Grace:
They've been there from the start, Rob's business family. This video says it all. What family member doesn't love to tease the baby brother?
There they are, your four nominees in this category.
And remember, you only get 1 vote and polls close at midnight (ET) on Dec. 31st