Moviefone talks about A24 Films acquiring The Rover and compliment Robert Pattinson
UPDATE
: A24 is "so excited" and so are we! Bottom of the post, under their tweet.
Rob, some folks are saying some awesome things about you!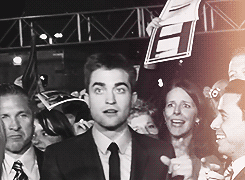 Awwww don't be like that. It's going to keep on happening. ;) You guys will love this from
Moviefone:
Anyone who thinks Robert Pattinson's acting stops at making swoony vampire eyes is selling the star short -- by a considerable margin. (Tink: HELL YES)
While Pattinson's performances in "Water for Elephants" and "Remember Me" were solid, both leaned too heavily on his "Twilight" cred, casually capitalizing on his weepy romantic image. However, it was last year's "Cosmopolis," an adaptation of the Don DeLillo novel of the same name by Canadian director David Cronenberg, that pushed Pattinson over the edge from potentially great to genuinely wonderful. (Tink: I die.)
It looks like that streak will continue with "The Rover," a post-apocalyptic western from "Animal Kingdom" director David Michod, which has just secured American distribution from A24 ("Spring Breakers," "The Bling Ring").
Keep on wooing us with those words, Moviefone, keep on....
Click HERE to read the rest of the article. Click HERE if you missed the initial announcement.
A24 Films
also tweeted their excitement for
The Rover
fans and called themselves something we can all relate to....
Love our new ROVER fans. A24 is Robsessed!!
— A24 (@A24Films) June 28, 2013
UPDATE
: And from their
instagram
:)
"A24 is releasing David Michôd's THE ROVER with Robert Pattinson and Guy Pearce. So excited. #robsessed"
GAH. Everyone loves Rob :))