365 Days of Robert Pattinson: August 21 ~ Best Ellen Interview
I know you're going to enjoy today's 365. Rob on Ellen is classic.
Tink & Kat are in sync today and went for the same interview.
Kat
"I love Rob. I love Ellen. So I love Ellen interviewing Rob. I could've posted any here and called it my favourite. It was fun going back and listening to them all."
Tink
"this was tough. i struggled between Rob talking about his ballet experience, the first Ellen appearance when he was so unguarded (he freely shares his relationship status), his second appearance and what a difference a year makes, but i ultimately couldn't resist the sweetness of Rob saving the snails. this man and his big heart.
Click HERE to watch the whole interview. it's wonderful just like all of Rob's TV interviews."
Kate
"Ellen really is one of the funniest women on tv so trying to pick just one of her interviews with Rob is really hard. I love all of them BUT I'm going to go with this one. It's the most recent and was pretty hilarious.
You might remember THIS hilarious moment also happened
In this clip he talks about Bear. If you want to watch the full thing, check it out HERE"
Click the thumbnail if you need to review the

August

calendar. If you missed the whole year, there's a link on the sidebar :)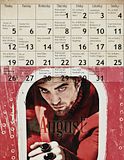 If you post your 365DoR links in the comments, give us time to approve them so the DR can see :)