365 Days of Robert Pattinson: August 17th ~ Premiere Photoshoot Pic
Rob really knew how to shock us with this photoshoot. It blew all the others out of the water. We hadn't seen anything like these pics before.
Myself and Tink were on the same wavelength today with our choices and why wouldn't we? Multiple Rob's FTW.
I made some wallpapers from this photoshoot when it came out, including one using the pic below.
If you'd like to grab any of them head over
HERE
Tink
"i used the magazine version of this pic before (DoR for barefeetporn) but this one is different. RightRob has his eyes closed….a peaceful slumber for the delicious, scantily clad man. this shoot was awesome for one main reason - it was Rob's idea to make it an homage to David Cronenberg. LOVE."
Kate
"Totally late with this today (have a good excuse though, DiorRob is SO distracting ;-P). Anyway it kinda HAS to be this pic really doesn't it?"
Kat
I'll update with Kat's when she picks herself up off the floor from the new Dior pics
Click the thumbnail if you need to review the

August

calendar. If you missed the whole year, there's a link on the sidebar :)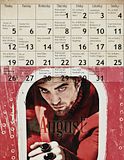 If you post your 365DoR links in the comments, give us time to approve them so the DR can see :)