UPDATED Added Details of Rob's Jacket (Scroll Down)
*NEW* Cute Fan Pic Of Robert Pattinson
This super cute fan got to meet Robert Pattinson when he was visiting a hospital in LA today. Such an adorable pic. She really looks like she's trying to contain her excitement.
Check out some of her tweets below the pic.
Side Note: HELLO to Rob's gorgeous hair. We've missed you!!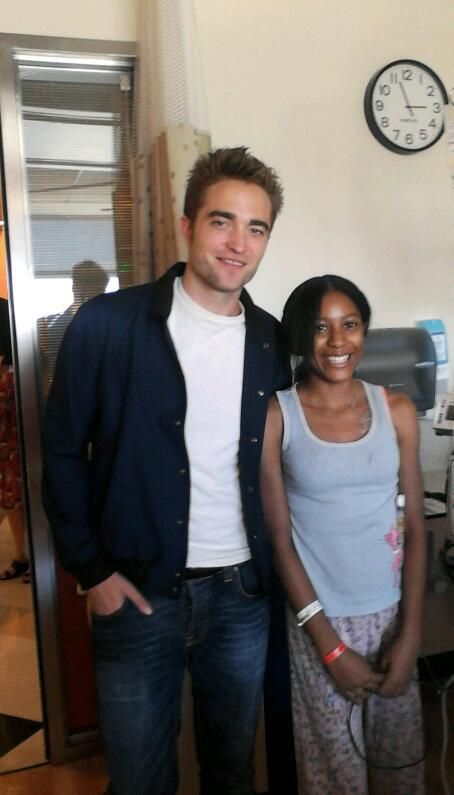 THIS IS THE BEST PICTURE I TOOK WITH ROBERT TODAY IN LA PLEASE EXCUSE MY UGLINESS I WAS DYING ON THE INSIDE pic.twitter.com/laMSDtZCmu
— Awkward_Turtle_Army (@NonPetroLiam) August 16, 2013
@vico_robsten It was in LA at a hospital omfg but I'm so ugly I ruoned the pictures we took ahah
— Awkward_Turtle_Army (@NonPetroLiam) August 16, 2013
@cheersztoRiRi Honestly he's shy and sweet and just ugh
— Awkward_Turtle_Army (@NonPetroLiam) August 16, 2013
@JenferM23 No. He didn't have any cameras with him which made me love him even more because he didn't do this for the media
— Awkward_Turtle_Army (@NonPetroLiam) August 16, 2013
@RobertOwnsMe He was visiting the patients there :) He is so sweet
— Awkward_Turtle_Army (@NonPetroLiam) August 16, 2013
Source
Thanks to the fabulous
TheFashionCourt
we now have details of Rob's jacket
Robert Pattinson wears a Raf Simons X
@FredPerry
Check Bomber Jacket