NEW: Robert Pattinson Dior Homme interview for InStyle UK
No new DiorRob pics but a new interview and it doesn't need a translation! I love this first shot of Rob....oh that look.....
Transcribed by us:
There's a shift in energy when a star of a certain status enters a building. You feel it when Kate Moss walks into a room - the atmosphere becomes oddly charged. And you sense it when Robert Pattinson is ten feet away, on the other side of a coos in a Beverly Hills Hotel suite. Even though the hotel is a daily stop-off point for celebrities - Rachel Zoe is in the Polo Lounge today having lunch, in a large floppy hat; January Jones was in the lobby the previous night - Robert's presence has created a palpable current in the air. Trim, immaculate Parisian women from the house of Dior (he recently signed a deal to be the new face of Dior Homme fragrance) wander up and down corridors, wielding clipboards looking prettily nervous. "Robert - 'c is ready, yes?" whispers one through the door as an inscrutable security guard nods me into the room that contains on of the most endlessly discusses movie stars of the decade.
The figure who gets up from the sofa doesn't carry himself with the self-entitlement of someone who commands $25 million a picture. Or like Edward Cullen, the mysterious, ethereal teenage vampire that handed Robert Pattinson fame on an almost unimaginable level. He's boyish and self-consciously polite as he shakes my hand, like a nervous, well brought-up adolescent meeting his girlfriend's parents for the first time. The hair that launched a thousand fan sites is concealed today with a baseball cap worn back to front. he's wearing a soft, navy jumper, dark jeans and spotty socks with his black trainers - the uniform of the middle-class west London boy, strangely incongruous amidst all this LA affluence. It seems ridiculous to describe him as handsome. Of course he is - he's Robert Pattinson. But he's not beautiful in the pristine, toweringly confident way you expect of screen icons. More like a teenage boy who doesn't feel entirely comfortable with his aesthetic lottery win.
Pattinson famously doesn't like this part of the job - interviews and scrutiny - buty there's no hostility in the room today, more the sense of a friendly young man at a wedding forced to sit next to an elderly relative, chuckling diplomatically at my jokes, connecting his thoughts with a lot of LA-inflicted kind of's, sorta's and like's. He's sweet, surprisingly open and giggles a lot. Swigging Diet Coke and endlessly puffing away on electronic cigarettes, he chats about
Dr. Who
(
"I've never seen an episode. That's really bad isn't it?"
) and
Game of Thrones
(
"Everyone's obsessed by it. Crazy."
)
He knows a great deal about "crazy", having been catapulted to a level of fame that defied all expectation. A role in
Harry Potter And The Goblet Of Fire
saw him heralded as "the next Jude Law". Then, in 2008, he beat 3,000 others to land the lead role in the
Twilight
saga. His life was transformed.
These days fragrance campaigns have become a deliberate career move for A-list stars, who sign endorsements with big fashion houses for beautifully shot campaigns with reputable directors. And who better to represent your brand than the man at the centre of a movie franchise worth over three billion dollars? Clever Dior. The ads are impressively atmospheric, like a grainy, Warhol movie, shot against New York skylines by Nan Goldin with Robert running along rooftops and engaging in passionate clinches with a young French actress. He looks like a brooding James Dean. His hair had been cropped almost army regulation short.
"
Initially I was going to shave it off. I wanted to have really short hair for it.
" He pauses thoughtfully. "
I guess it was out of fear, really. You're doing an ad and you don't want it to look like you're posing.
" He's been offered big-money deals before of course, probably on a daily basis. It seems an unlikely move for someone so overtly private though, doing an ad campaign. So why now?
"
Before, I was so obsessed with thinking, 'People are going to think you're a sell out.' and now, of course, every single actor in the world has done one. In the past I always said no to everything. I thought I'd be so judged for it.
" What made him change his mind? "
Dior came up and it felt right. It was a big decision - I've turned down plenty of others at the last minute before.
"
Of course he has. Twilight was not without its price. Pattinson lives under constant siege from paparazzi and frenzied fans, and his private life is debated on a daily basis. There is to be strictly no mention today of his high-profile split from Kristen Stewart, but I wonder if he feels the pay-off has been worth it? The franchise has, after all, given him the money and studio muscle in Hollywood to pick and choose what he does next.
"
Kind of. It can be a really difficult transition from something like Twilight once people identify you with something like that it's hard to find your way out of it. And also, I mean, I'm not that easy to cast because of my...physicality. I'm quite lanky. You can't exactly see me in a sports film or something, can you? I'm never going to play 'one of the guys.'
"
Surely he knows he's leading man material? "
I don't know,
" he puffs on his electronic cigarette and laughs. "
Maybe I have body dysmorphia.
" Doesn't he see himself as good-looking? He frowns. "
It depends, sometimes. But I'm weird about my looks. Once you get photographed a lot it changes you. I remember when I first saw Twilight I didn't care about how I looked - there was less pressure, I guess. I was like, 'I'm cool as shit!'
" he laughs.
And now there is pressure in abundance. The night before, I'd seen him at a Dior event in LA to launch the campaign. He'd arrived looking dashing in a navy suit and answered questions dutifully, but he seemed curiously shy for someone so used to being photographed and stared at.
"
Every time I appear somewhere, I think, 'I don't know how many more times I can do this'. Dressing up to go somewhere and be looked at - I get so nervous. Up until the second I have to leave, I'll get changed a million times. It's crazy. Literally just before I go I look in the mirror and think, 'You look like shit'. I start worrying about wrinkles.
" He's 27. Really? "
Honestly. Everyone who works with me knows they'll have to sit there and wait for me to go through my process of having my panic attack about how I look.
"
It's hard to decide whether he could have chosen this path had he known what he knows now. He was a middle-class boy from an affluent west London suburb, the son of a model booker and businessman who fell into joining a local drama group as a teenager. And, as he points out, no one knew that Twilight was going to take off ("
it was all so unexpected - the studies hadn't even bought the rights to the other books, so they ended up getting screwed over
"). Actors like Daniel Craig and Matt Smith at least knew what they were signing up to, playing characters that inspire fan conventions and entire industries. Despite the success of the novels, no one could have predicted the feverish response to the
Twilight
movies.
Waiting for a clear version of the second page....
Click for LARGER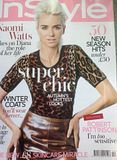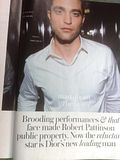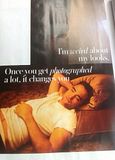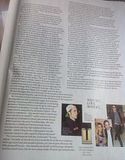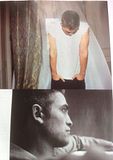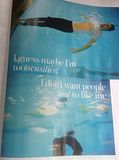 Source: InStyle |
Via
Via