*NEW* Robert Pattinson Interview in GQ Magazine (Spain)
Looks like it's raining Rob again today ;-))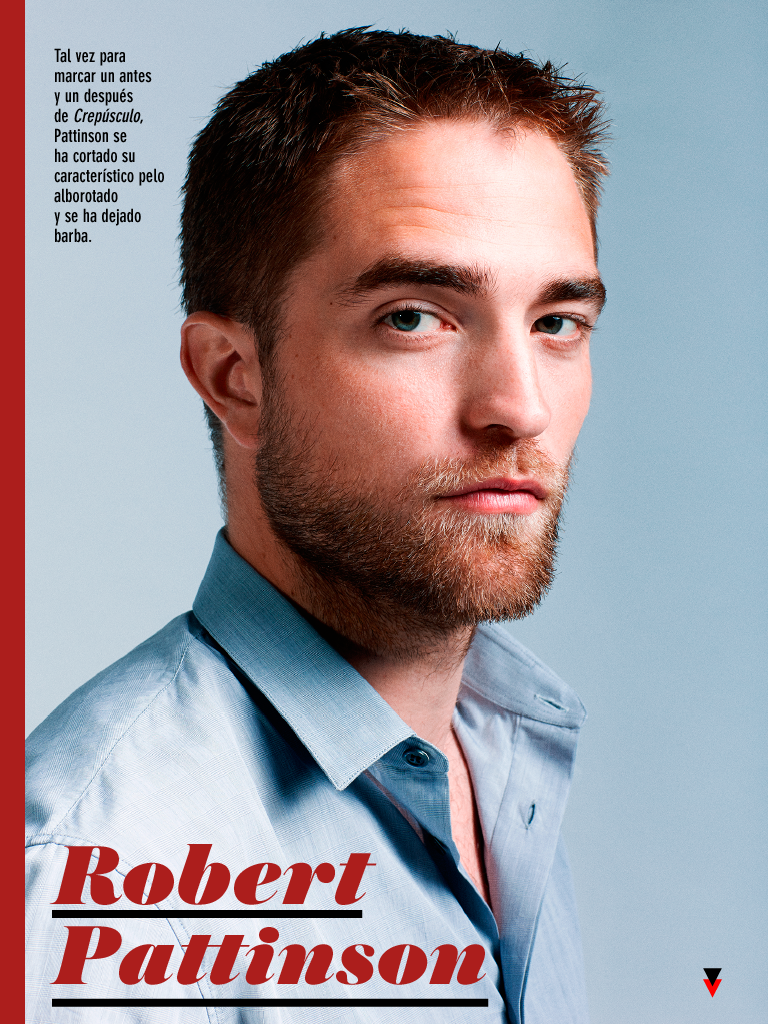 Click for Larger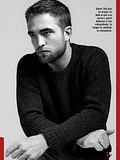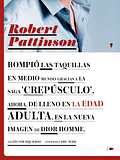 Translation & Scans Thanks to
Flavia
FULL TRANSLATION AFTER THE CUT
Beverly Hills Hotel is one of the establishments with more history in Hollywood, one of those places where, if you make an effort, you can almost feel how the golden age glamour of American cinema floats.
Between its pink walls – which gave it the nickname of The Pink Palace – have slept, eaten and drunk stars such as Marilyn Monroe, Cary Grant, grace Kelly, Lucille Ball or Elizabeth Taylor, to name a few.
Still today, the Beverly Hills continues to be a mandatory stop for industry royalty and, as the best place to hide a tree is a wood, we think a perfect place to interview the most coveted prize for all Los Angeles`paparazzi: Robert Pattinson.
Wearing jeans, a sweater and a backwards baseball cap, he awaits us sitting in a suite. Thick beard and, no, he doesn't shine when the warm California sun illuminates his blue eyes.
In fact, Robert has less of the high school vampire and more of the adult actor in search of roles with significance. If you review his recent filmography you will find small movies – as David Cronenberg's Cosmopolis – than blockbusters. His collaboration with Dior, at the orders of Romain Gravas, represents another step in his journey to adulthood.
Destiny's ironies, the man the British press characterized as the new Jude Law after his role in Harry Potter, is replacing him as the face of Dior Homme fragrance. ¨Everybody is the new somebody¨, jokes Pattinson. ¨there must already be, at least, 3 new me…¨ and laughs.
"Maybe to mark the ¨before¨ and ¨after¨ Twilight, the actor has cut his characteristic messy hair and dons a beard¨
GQ: In the campaign film you have very intense scenes with the model Camille Rowe. Did she feel intimidated for being in bed with Robert Pattinson?
RP:
No, I don't think so. She was so… No, I don't think so… (laughter). And if she was, she certainly didn't show it to me (laughs).
GQ: Didn't you find that a bit disappointing?
RP:
No, no way. If you have to kiss someone who you don't know and that person keep the distance or backs off, it's horrible, it's very curt.
¨Price of success is not having a normal life anymore. It's weird. People doesn't realize how lonely you are¨
GQ: In Twilight you needed four movies to have sex and here 30 seconds… That is a whole advance.
RP
: Yes, that is (laughs)
GQ: I suppose that's what it means to stop being an adolescent. You have said that you are starting to feel like an adult. Why now, at 27 years old?
RP
: I don't know, I think it's only the age. It's strange, you start changing, childhood finishes and, suddenly you feel that even your physique is different, you feel heavier. When I look at the campaign photos or my last movie, I feel I have a very different look from other things I've done. I see myself older, like an adult, as if before I was…¨Oh, heavens! As if you are a small kid pretending…!¨Yes, I think it's the age.
GQ: Clearly Twilight changed your life. Did you ever think it would be this big?
RP:
No, not at all. I lived in a small apartment when the premiere arrived and didn't even know if the sequels would be made. Then came the weekend of the premiere and it was ¨Oops, now we must do the sequels¨.
GQ: Did you ever dream of being a huge star?
RP:
No, absolutely no. I didn't even think of being an actor.
GQ: What's the price you have had to pay for success?
RP:
It's strange, you don't have a normal life anymore. You spend much time trying to fight it, but in the end you find another way to live. People don't realize how lonely you are. In any case, I feel fortunate because success didn't reach me very young and, at least, I had the opportunity to have a life before.
GQ: While you were filming Little Ashes in Barcelona, I learned that you even invited a fan that was stalking you to dinner…
RP:
Yes, it's true. Not a big deal, was odd, a bit boring.
GQ: Didn't you think she could be a psychopath?
RP:
I could have been a bit of a psychopath (laughs). She should have been scared of me (laughs). When you become famous, it's easy for some people to hate you just because you are famous. That's why, sometimes, you beat yourself up¨
GQ: Let me tell you that you don't sell yourself well…
RP:
Yes, I'm improving on that. Before, I didn't like that the image of myself with a big ego, but now I do. Now I have a big ego (laughs). I'm not going to pretend to be humble anymore (with an evil voice).
GQ: Don't you feel sometimes as if you have to ask forgiveness for your success?
RP:
When you become famous, it's so easy for some people to hate you just because you are famous… So, you try to beat yourself up in order others cannot do it.