ROBsessed's 30 Days for Rob's 30 Years: Robert Pattinson's Awesome Full Bodied, Crinkly Eyed Laugh
Robert Pattinson has the BEST. LAUGH.
It's like watching fireworks - this sudden burst of sweetness and light that dazzles you endlessly and brings absolute joy. Bravo on your laugh, sir. It's a beauty and shows your sweet spirit.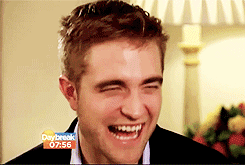 Remember if you want to add your list of '30 awesome things about Rob' please add to the comments section
here
. We'll end the month with a post filled with your lists.