HQ pics, tweets and more of Robert Pattinson at the Australians In Film Awards Dinner!
Rob at the Australians In Film Awards Dinner & Benefit! Select pics and an all-in-one video are above the cut. HQs, original videos, tweets, instagrams and fan pics are under the cut. Enjoy! Rob sure did :)))
Popsugar
has a write up on the event with more details:
Robert Pattinson was a Brit among a sea of Aussies at tonight's Australians in Film gala in LA. A suited-up — and nearly scruff-free — Rob was on hand to present an honor to Blue Tongue Films. The production company is behind his upcoming movie The Rover, which was shot in Southern Australia. Rob had a front-row table at the award ceremony, where he dined on kohlrabi and beet salad by his rep's side and laughed along with the rest of the crowd — who included Isla Fisher, Hawaii Five-O's Alex O'Loughlin, and several prominent Australian filmmakers — during the raucous festivities. Tonight was the second public appearance Rob has made this week; on Tuesday, he attended a screening of his friend Nicholas Jarecki's latest directorial project, Seduced and Abandoned. Isla Fisher presented Baz Luhrman with one of two Orry Kelly International awards tonight. The Great Gatsby director couldn't be there to accept in person, so she announced that she'd take home his boomerang statuette, teasing: "My first award!" Isla also couldn't resist comparing the title of the honor to the R&B singer with a very similar name: R. Kelly. When Rob presented the second of the statuettes to Blue Tongue shortly after Isla, he said he was chagrined she'd already made the first R. Kelly-related crack. Then, he jokingly referred to the honor as "the golden shower award," earning the evening's biggest roar of laughter from the crowd. In typical self-deprecating form, Rob also wondered out loud if he should ditch his "insanely generic" written speech, but ultimately decided against it after the crowd urged him to keep reading.
UPDATE
: Another video clip of Rob from a news report about the event!
The first 3 video clips we have, in one video. 1st clip, Rob talks about his R Kelly golden shower award joke, 2nd is that great laugh of his, 3rd is Rob with his jacket off at his table, sitting next to Nick!
HELLO GORGEOUS!!!
I cropped this one....you'll see why....DON'T LICK YOUR SCREEN!!!
A crop because GAAAAAAH!!!
Rob with Isla Fisher! Anyone want to volunteer and get down on their knees?
To tie Rob's shoe, ladies! ;)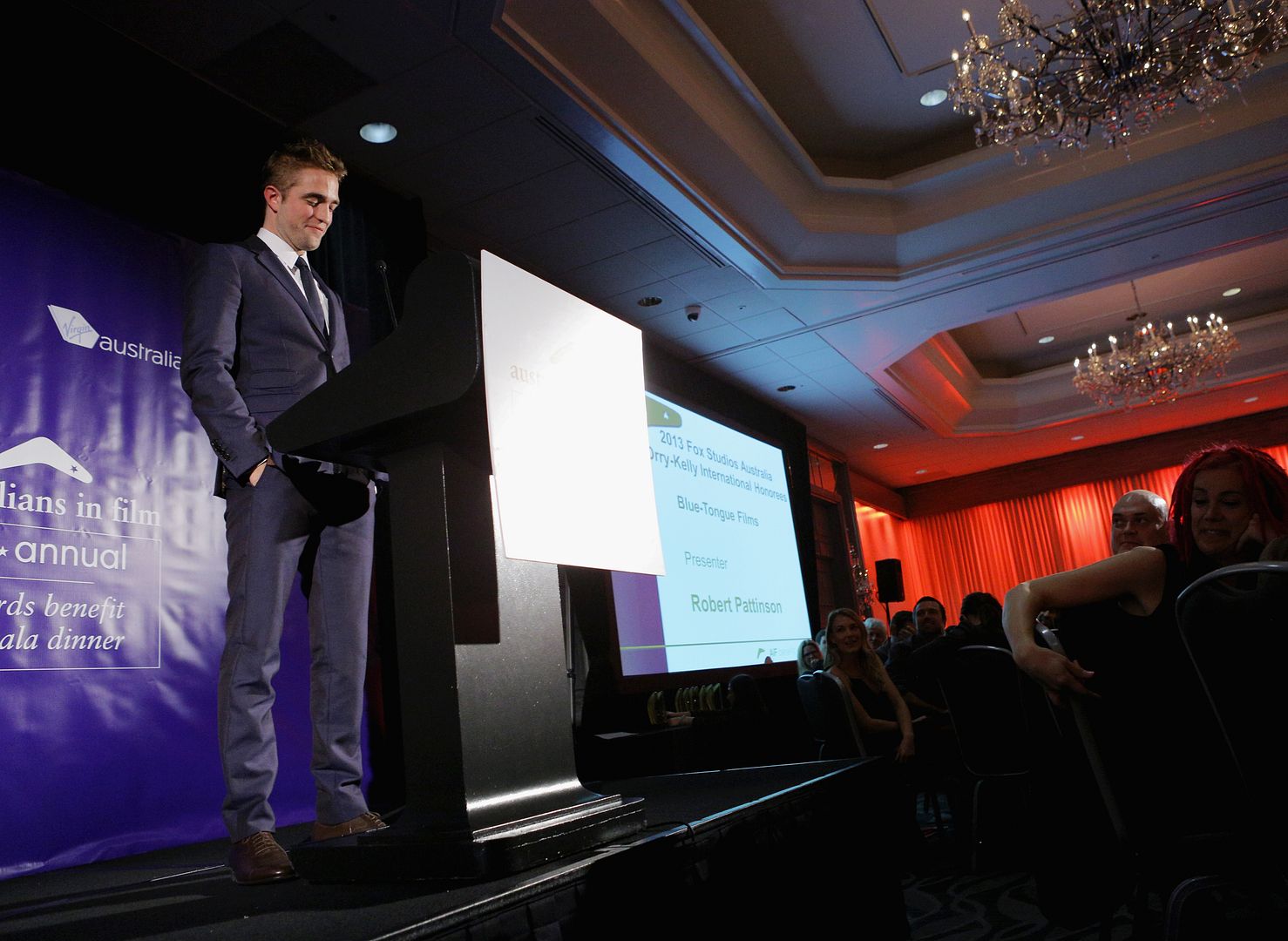 Our WWRW poll
went strong for
Dior
. It's not a bad bet. This was Rob's first suited & booted appearance since DiorRob was launched. But LOW AND BEHOLD! It wasn't a bad bet but it was a WRONG bet. Tried and True
Gucci
takes the cake!
From
The Fashion Court
:
For his first formal event since the Golden Globes back in January, Robert shined bright in a inky midnight sapphire notch lapel suit.... If the photo was a scratch 'n' sniff, we'd probably be smelling the swoon-worthy scent of Dior Homme–however, when it came to his suit designer, the 27-year-old actor stuck by his go-to Gucci for this striking Cruise 2014 maritime two-tone wool mohair New Signoria suit with micro GG lining....Rob finished his look with a matching silk tie popping off his crisp white shirt and lace-up brown leather shoes.
Click
HERE
to read the full report. Soooooooo...who won?? I lost allllll my money, the house, the car, the kids, the husband, the dog.....it's all gone. LOL
MORE after the cut! HQs, tweets, instagram and fan pics!
TWEETS & INSTAGRAM PICS
Rob presenting to
Blue Tongue Films -
the film collective David Michôd belongs to.
Here he is! pic.twitter.com/yfZQftslWX
— POPSUGAR (@POPSUGAR) October 25, 2013
Rob just said he was debating winging his speech instead of reading the "insanely boring" one he wrote--presenting to Blue Tongue Films
— POPSUGAR (@POPSUGAR) October 25, 2013
But Rob did take the opportunity to make a joke about the R. Kelly award...(it's not that R. Kelly.)
— POPSUGAR (@POPSUGAR) October 25, 2013
Robert Pattinson with THE most hilarious presentation speech any awards show has heard. #welldone @spunk_ransom. pic.twitter.com/8EfsqKn11o
— G'DAY USA (@GDAYUSAofficial) October 25, 2013
Robert Pattinson presents an award to Australia's Blue Tongue Films. #aifawards #eyewitnessnews pic.twitter.com/JNie7SgE9T
— Emma Dallimore (@emmaten) October 25, 2013
We met R-Patz! And he loves the Aussie accent :) #rpatz #twilightlover #australiansinfilm pic.twitter.com/NOyghkJW3x
— TheFIX (@TheFIXninemsn) October 25, 2013
This just happened #dreambig #twilight #rpatz #visitcalifornia pic.twitter.com/5I7tIccucH
— Kristy Meudell (@kristymeudell) October 25, 2013
Rob Pattinson is here at the Australians in Film awards! (Isla Fisher joked w/us that he can be an honorary Aussie if he likes Vegemite.)
— POPSUGAR (@POPSUGAR) October 25, 2013
A suited-up Rob looks great (of course)--dining on salad and joining the rest of the audience in a lot of laughs from his front-row table.
— POPSUGAR (@POPSUGAR) October 25, 2013
Rob is presenting to director (and his former karaoke partner) Baz Luhrman tonight. Can they team up on the big screen next?
— POPSUGAR (@POPSUGAR) October 25, 2013
Rob's karaoke session with Hugh Jackman and Baz from Feb. 2009. Click
HERE
for the throwback info.
The program has changed! Isla is now presenting to Baz...but we still want to see a Baz/Robert collaboration.
— POPSUGAR (@POPSUGAR) October 25, 2013
First little video clip of Rob presenting plus first HQ of Rob presenting! More HQs at the bottom of the post. In the video, Rob talks about Isla stealing his R Kelly joke and mentions R Kelly and the golden shower award. ONLY ROB! LMAOOO
#RPatz laughing about how Isla Fisher used up his joke at the @australiansfilm awards...hilarious!!… http://t.co/qCRgbIAbfD
— FAMOUS (@FAMOUSweekly) October 25, 2013
Another clip of Rob presenting
Rob with the jacket off (clearly his own hotness has gotten to him too....see pic below) and Nick!
HQs PICS - LICK AND SAVE!
Fan Pics
HQs:
Via