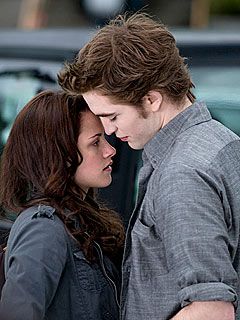 With New Moon ready to rise in theaters Nov. 20, director Chris Weitz wants it known: He is going to try to make you cry.
"We've tried our best to deliver on the romantic scenes in the film, and I would like to be able to produce more tears than any movie before, if possible," Weitz told PEOPLE at the Hollywood Film Festival's Hollywood Awards Monday of capturing moments in the Twilight saga's love triangle. "If we could only weigh them with some kind of cubic tear measure!"
Weitz, who took over the directing reigns from Catherine Hardwicke, admits delivering the passion, thrills and heartache in the hotly anticipated sequel wasn't easily done.
"I've handled it very badly, because I'm extremely envious of Rob [Pattinson] and Taylor [Lautner]," he said laughing. "What I've realized is that they have a very tough job – not just playing the characters that they play, but living lives that are now very much under scrutiny all the time."
He adds, the intense level of attention – including speculation about cast members' love lives – was challenging for everyone. "To be honest, even making the movie is under a tremendous amount of scrutiny now, so that when the cast went back to Vancouver there were cameras everywhere," he said. "Everyone knows where every set is going to be. It goes with the Internet and all the information is out there all the time, and whenever one of them is spotted it's immediately Twittered."(
Gozde: I might be twitter crazy but I would never tweet or blogpost a set or cast location. That just ain't right...
)
The director said he had to resort to some extreme measures to avoid the prying eyes of paparazzi and fans while on location. "I can remember trying to barricade some windows by turning tables over so that they couldn't look in at a cast dinner that they we were having," he admitted.
Nevetheless, Weitz thinks the New Moon stars are gracefully dealing with the attention. "I think that they handle it very well really. They're smart kids – I can say that because I'm 40 – and they've got good heads on their shoulders. So they'll be all right."
As for himself? "The moment this film is out I go away because no one really knows what I look like," he said. "At least that's my plan!" (
Gozde: Haha, we love you Chris :)
)
People.com