Thanks to Darja, our Slovenian dealer we have lots of scans and translations from Germany and Slovenia. Only 1 piece of crap which is quite an achievement :))
Slovenian New Moon Poster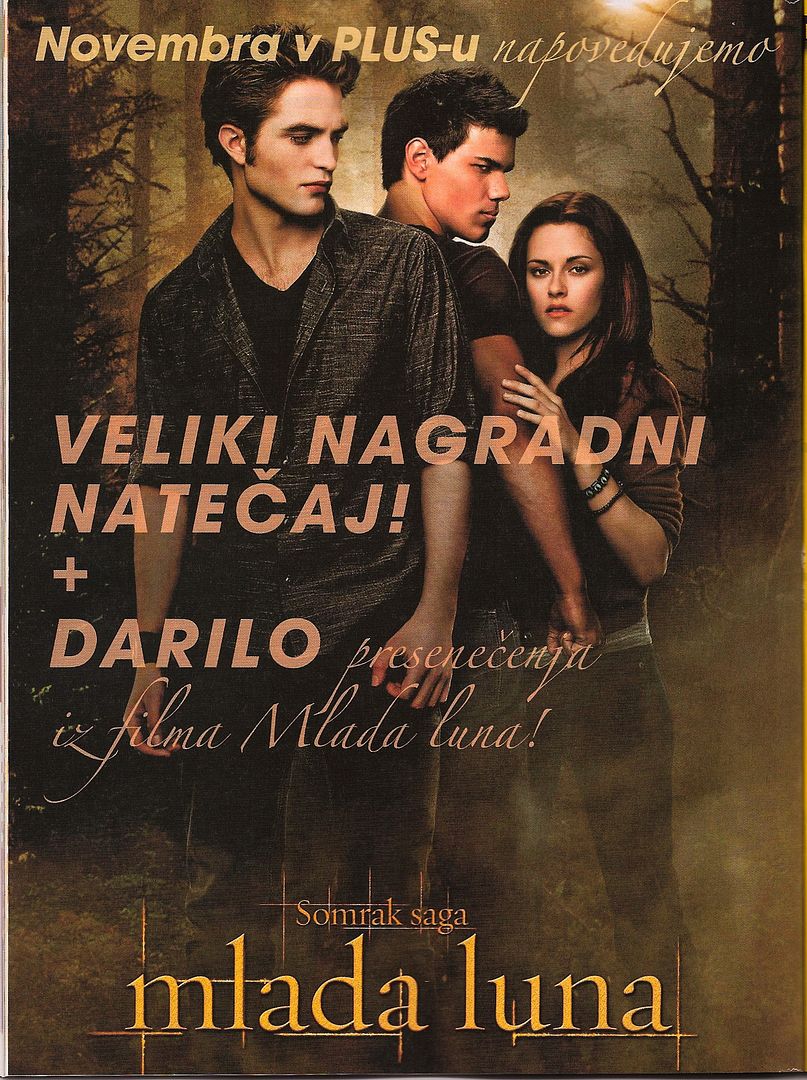 Glamour Germany, October 2009
This scan made my day :))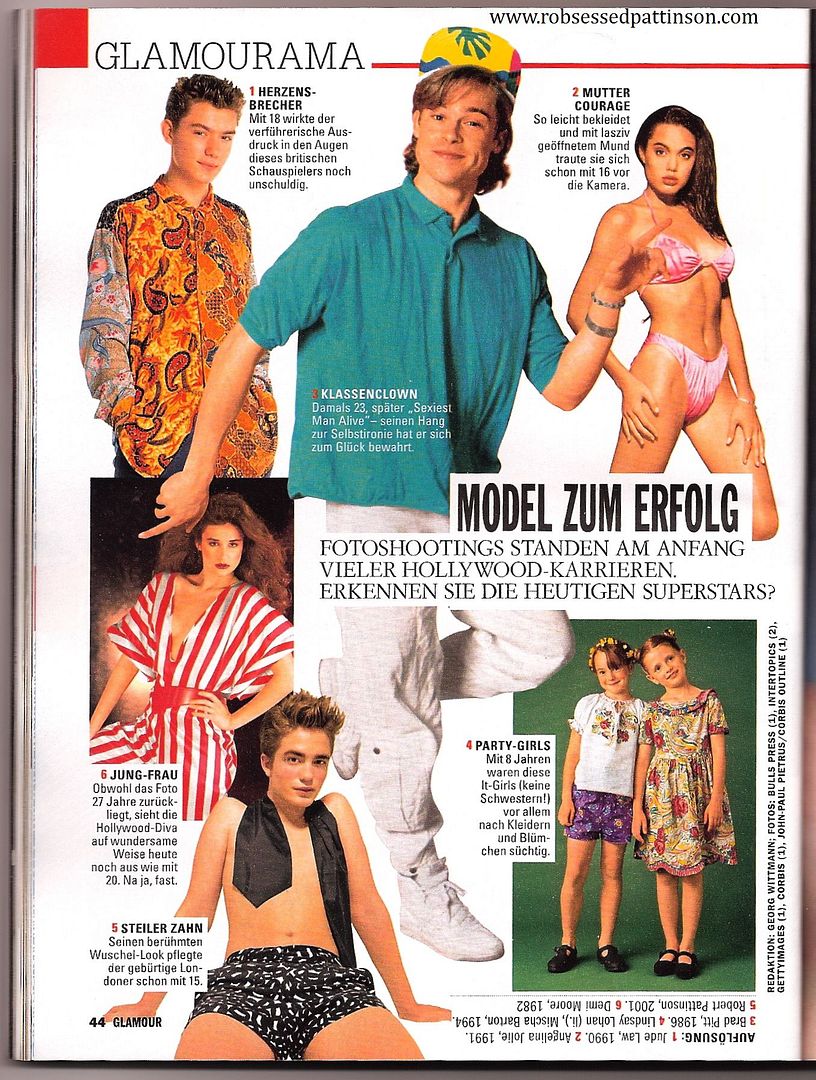 Photosessions are the start of many Hollywood careers.
This Londoner is sporting the signature messy hair look since the age of 15.
Lady Slovenija
7.Oct.2009
Kristen in love, Michael offended
Will jealousy tarnish the wedding?
Kristen Stewart and Robert Pattinson are new idols of Hollywood movie industry. Since they made movie Twilight, they are a real life couple. Even more, they are thinking of wedding since they returned from their romantic holidays on one of Canadian islands. their friends say they are made for each other and wedding is the right thing to do. (

Gozde: I mean obviously! who DOESN'T advice their 19 year old friend to get married? It's the right thing to do. *eye roll*

)

"They understand and complement each other. In the euphoria of their popularity, they are each other' support," they say. Kristen's ex boyfriend, Michael Angarano is not happy about it. They have been together since 2004, when they made movie Speak. They broke up in summer, when Robert made his move. Friend fear his jealousy may tarnish Robert And Kristen's wedding. "Michael is crazy about Kristen and still hopes she'll break up With Robert and come back to him." (

Gozde: I'm almost wishing this was true. Michael crashes the wedding, Rob slaps him and there's a bitch fight! One can only hope :)

)


TONS more after the cut :)
Večer Slovenija, 11. August, 2009

The sexiest man in universe
Johnny Depp, Hugh Jackman, Brad Pitt, no way. There is a new star in the female population's universe. British Glamour magazine readers sent tons of votes and the new unexpected winner is 23-yrs old british actor, model and musician Robert Pattinson, who's most popular roles were in Twilight and in one of the Harry Potter's movies.
Pattinson isn't very impressed by the title, he thinks it's strange. Praises like this make people arrogant.

Jolie Germany, November 2009
Vampire is back
Robert Pattinson talks about his new movie and his life as a sex symbol. On newsstands November 11th.
Glamour Germany, October 2009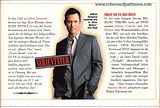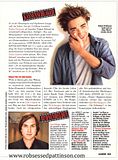 Our Dates for Autumn
Box Office Hit
Robert Pattinson is back with New Moon.
He is shooting star and most wanted soul of this year. Since 23 yrs old Londoner's role of Edward, the virgin vampire who's fallen in love with human Kristen Stewart (!?) in massive hit Twilight, he's getting movie role offers as well as marriage proposals.
In New Moon (in movie theatres from 7. Jan), he will have to divide ladies' attention with Taylor Lautner. In the meantime, Team Edward fans can watch his portrayal of melancholic musician in coming of age comedy How To Be (available on DVD from 15.10.).

PLUS - Slovenija, 7. August 2009
Movie through the face of ROBERT PATTINSON
At the time Robert Pattinson was Cedric Diggory in Harry Potter movies, Daniel Radcliffe was teenage sex symbol and Rob wasn't universally recognized. Daniel can catch a break, since now Robert is the one teenage girls are screaming at. The role of Edward Cullen from the Twilight movie has made him so famous, he has to hide from his fans.
Points of Interest
While making movie Remember Me, a special tent has to be constructed, so Rob could hide from fangirls.
Robert confirmed he will star in 4th part of the Twilight saga, Breaking Dawn.
August 17th is the beginning of making the Eclipse movie, 3rd part of the Twilight.
If he decided to pursue music career, he would want to play with Kings of Leon.
If he wasn't an actor, he would like to be a political strategist.
There were more than 3000 actors competing for the role of Edward Cullen.
He likes to play darts and he likes to swim. (
Gozde: LMAO!
)
Willow is one of his favourite movies. (

Gozde: First time I'm hearing this. Is my Robcyclopedia (brain) failing me?

)

About Fame:
Lately, my life is very stressful. There is nowhere I can go without being spoken to. I prefer to be with my friends, who know me and can ground me. Truth is, I am working so much and have little time off.
Tabloids, Girls
In gossip magazines, they never write the truth about me. I was supposed to date a Brazilian girl named Anneylese, but I don't know her. There is supposedly someone pregnant with my child - what a load of crap. Being in public eye all the time, I don't even want a girlfriend. (
Gozde: lol, I think Darja translated the what a load of crap :) I've never heard Rob use it. It would make my day if he did :P
)
ID
Born: 13. May, 1986 in London
Family: mother Claire, works for modeling agency, father Richard imports old timer cars from USA, two older sisters.
Modeling career: Started modeling at 12 and stopped at 16.
Music: plays piano and guitar and writes his own music. He sang two songs from the Twilight movie:
Never Think and Let Me Sign.

PLUS Slovenija, 2. October, 2009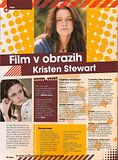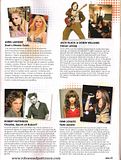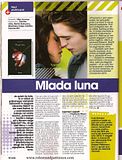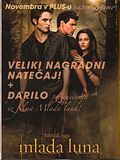 p1) interview with Kristen, nothing new...
p2) New Moon, soundtrack, Death Cab for Cutie... Thom yorke... nothing new....
p3) ROBERT PATTINSON
Claudia, Spunk or Robert?
As a little boy he was called Claudia. No, he didn't change his gender, he was his older two sisters' toy, they dress him as a girl and introduce him as Claudia.
Rob admitted, he wasn't a cool teenager. Being twelve was groundbreaking, I transfered to another, mix gender school and discovered hair gel. Suddenly I was cool.
Robert Pattinson isn't happy about his name. "It annoys me, sometimes I wish people would come up with something completely new. I don't know, maybe Spunk. And I know a girl named Ransom. Yes, Spunk ransom or Ransom Spunk would be great!"
... nothing new....

p4) + p5) New Moon, about the book


p6) In november issue of Plus magazine: competition + a surprise present from New Moon the movie.

There are competitions announced on pages 4,5 and 6 for our Slovenian blog visitors :))