Robert Pattinson encounter story on the set of Cosmopolis May 31st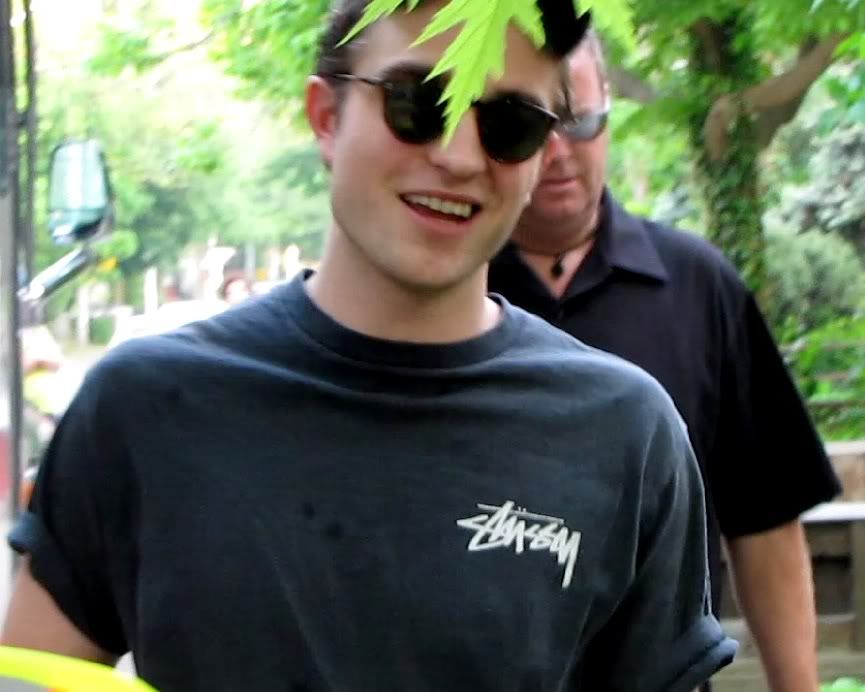 Now we have the encounter story! From
Mr. Will-W
:
Cosmopolis continued into its third day of Filming here in Toronto, with one of my favourite Diners in Little Portugal providing the backdrop. The Production Crew, after taking measures to Paparazzi-proof their Set yesterday on Mercer St., took similar precautions again today in keeping Megastar Robert Pattinson's Trailer far from Filming. Fans waiting the entire day by the front of the Restaurant failed to see a glimpse even of him all day with him being ushered in and out through the back of the establishment.





After locating Pattinson's Trailer, I found a few devout and savvy Fans who had been waiting patiently the entire day in the area. Unfortunately they had failed to catch his attention as he went in and out of his Trailer. One Fan after growing tired of waiting, finally approached Pattinson's Handler Dean, asking if there was any remote possibility of obtaining an Autograph even. She however had been told by him, "Probably not - there's too many people around", shielding his attention-shy Client. In total there were six Fans in-waiting.





Around 8:00 PM a glimmer of hope appeared as Pattinson entered his Trailer again for one final wardrobe change for the day - a change back into his Everyday Wear: a Stussy T-shirt, his Long Beach 49ers Baseball Cap

(Tink: Go Beach!)

and a pair of Jeans. He officially had wrapped for the day after a long, grueling day in the Heatwave which has hit the City. After flagging him over, we were shocked to see Pattinson actually respond to us, coming over to personalize Photos and Magazines for us one-by-one in his best possible Penmanship.






Robsmacked, I asked "Is it at all possible to get a Group Photo?", to which Dean had interjected, "We don't have time...". Pattinson then overrode his Handler's objection, saying "Yes, I'll do a Group Photo!" , garnering an ecstatic response from us Fans. Some kind Onlookers in the neighbourhood offered to take our Photo before I extended my hand for a shake and he went off to greet a few other Fans. Those Ladies were told by Dean, "Stand back or he's not going to do it!" and willingly they obliged in their best behaviour.
Click
HERE
to view a couple more pics and the entire account.
Click
HERE
to view the video and
HERE
for Rob's exciting announcement!