UPDATE: Added a new DiorRob pic from Madam Le Figaro (they flipped his face so I flipped it back ;-))
Check out this NEW Robert Pattinson Interview With
Madam Le Figaro
where Rob talks about Dior,The Rover, Maps To The Stars, David Cronenberg and lots more.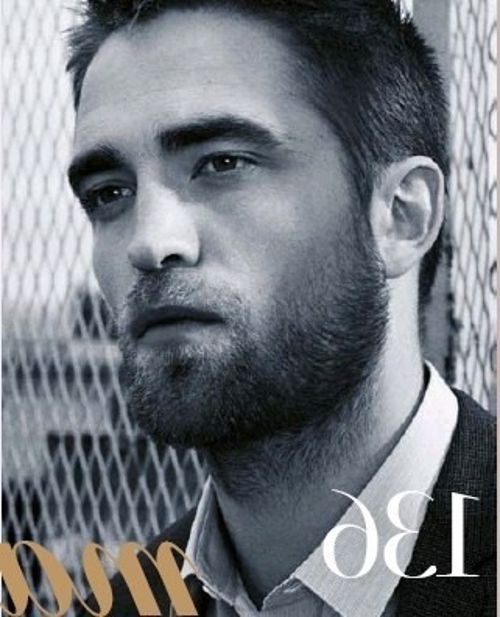 Translation
Thanks to
Pattinson Artwork
Robert Pattinson, the impatient Englishman
Portrait of the man who went through "Twilight ", " Cosmopolis " and Dior ...
New image of the Dior Homme fragrance, the Twilight star refuses to be vampirize by glory. At 27, this idol 'so British' claims his artistic ambition and a fierce appetite for freedom. Encounter with a new wave gentleman .
He is the star of the Twilight saga. He swears only by Jean -Luc Godard. He is an idol who is tracked. He likes nothing better than a party with friends. He is cheerful. And pessimistic. Audaciuous. And anxious. To portray Robert Pattinson, we have to highlight his paradoxes. And to understand why this 27 year old boy, who was perhaps not prepared to deal with a cannibal glory, may give a particular meaning to the word "freedom." Some are more free than others, not him, forced into a seclusion that he wants to shatter.
One year after the end of the Twilight saga, which propelled him into the private circle of overpaid actors in Hollywood, the impatient Englishman wants to exist differently than in the translucent skin of a romantic vampire who electrifies girls. To reinvent himself, this ultrasensitive man based himself on his instinct, his requirement and his culture from old Europe.
The Beverly Hills Hotel, the legendary hotel of Los Angeles where Marilyn Monroe loved Yves Montand, we meet him in an overprotected suite, away from hysteric fans and inquisitive cameras. The air is frenetic. The star is in the stronghold. Robert Pattinson doesn't support a movie this time, but a new role : he is the new ambassador of the fragrance Dior Homme, after Jude Law. A superb prize of war for the French house, since Pattinson is the young man of the moment, intact image and worldwide aura. He embodies a more boyish and rock'n'roll character: it's the very arty Nan Goldin who signed the clichés of the campaign.
Robert Pattinson :
"I don't want fear to win."
Fact: Robert Pattinson has the charm of the very shy ones. The outfit? A total ordinary appearance (jeans and navy blue shirt). The expression? Sideways, watching you nonchalantly. The words are hesitant, doubts and convictions collide. Robert Pattinson shows the nervousness of thwarted smokers - "NO SMOKING", we can read in this luxurious room .
With his low voice, weighing each syllable, the actor talks about his need to make a 180 degree turn :
"When you're hit by a phenomenon like Twilight, it's difficult to imagine how to exist after this, in the public mind. I really thought I'll never get out ... Such success can become a golden prison. I realize I'm at an important stage in my life. All the choices I make today will define my future forever. The pressure is huge, I'm always asking myself : have you made the right choice? At the same time, I don't want fear to win."
Robert Pattinson has begun his transformation in Cosmopolis, by David Cronenberg, last year. With this role of an overpowered trader who observes the end of capitalism from his limousine, he was promoted to another register. Something serious, at the risk of destabilizing his 12 years old fans :
" Cosmopolis is the movie of my life. Before, I didn't consider myself an actor, even though I had a ten year career behind me. I always felt like a fraud. I doubt very much. David Cronenberg has given me self-confidence, he changed the way I play and think about this job."
The film, shown at Cannes, is praised by critics and gives him some credibility. Until then, his dramatic efforts had gone rather unnoticed. The curse of handsome people?
"Americans don't really know Cannes or do not care, but for an englishman like me, this is an important festival. When i was little, I was dreaming watching the images of the event and i collected the award-winning DVD movies. At Cannes, everything finally seemed to get straight, because I was recognized by my peers."
Since then, "Rob" seeks to get free of the links that hamper safe paths. He now reveals his artistic nature with bolder choices. This informed cinephile, who counts Jacques Audiard among his favorite directors, just filmed five radically different films, some arthouse cinema and smart blockbuster. There is The Rover, a futuristic western by the young Australian filmmaker David Michôd (Animal Kingdom). Then a biopic about the explorer Gertrude Bell, Queen of the Desert, in which he plays Lawrence of Arabia. We will see him too in Hold on to me, a drama with Carey Mulligan and Mission: Blacklist, a psychological thriller by Eric Maddox .
The pressure is huge
But the project that makes him really glad, the one that celebrates his reunion with his mentor, David Cronenberg, he has just finished filming Maps to the Stars, with Viggo Mortensen and Julianne Moore.
"I happened to work with directors who forgot the idea of ​​their project on the way. With David, we can be sure that at the end there will be a film and a content, which is rare . After a forty-year career, he continues to worry about what he does with the same requirement as when he started. I would like to be like him later."
Robert Pattinson : "I have wanted to maintain a normal life for a long time"
Introduced as "satirical and extreme" by the Canadian director, the film gives a cynical look at Hollywood's flaws.
"This is a bitter, black comedy and really funny"
argues Robert Pattinson.
"The story tells how the actors and actresses can get crazy in this industry. It is harsh but very fair."
He added laughing:
"Obviously we are talking about stars that are no longer in this world, I don't imagine that it still exists !"
Dangers of fame, Robert Pattinson is ignorant of nothing. He, who, from one day to the next, has become an insane cult and never left home without being assault by dangerous groupies. He, whose every move is snapped away by an army of paparazzi who stalk him relentlessly. He, whose breakup with Kristen Stewart was described in details in a tabloids. In an era that glorifies visibility and exhibitionists tweets, Robert Pattinson tries to lock methodically everything regarding his private life.
A course of action. A matter of survival rather.
"It's violent, it's weird ... I have wanted to maintain a normal life for a long time, the one before Twillight. I finally realized that it was useless to struggle. It's no longer possible, that's all. I think I would have liked to live success at the time when the Internet and Twitter did not exist. Today, anyone can take pictures anywhere and anytime, and make you say everything and its opposite by hiding behind anonymity."
Born in London into a comfortable family, Pattinson is not a spoiled child. His mother worked in a modeling agency, his father imported cars. He has two older sisters.
"My family and my friends are my balance. With them, no sham is possible. "
A musician, he joined theater classes at 15, almost by accident. He doesn't try to build his legend posteriori, but tells this initiative honestly:
"I was pathologically shy. One day in a restaurant, my father overhears a group of pretty girls talking about their drama classes. He said: "Join those classes, you'll meet girls" I did it ... and it didn't work!"
Four years later, he become Harry Potter/Daniel Radcliff's friend, in the fourth movie of the Harry Potter saga. Then ... nothing. Three years of fruitless auditions.
When Robert Pattinson finally landed his role in Twilight, he was about to give up acting. Better than anyone, he knows that success is fragile. This is perhaps why he scans the back of his hand all outward sign of "staritude."
Robert Pattinson : "You know, I still have to do castings"
Now, he's at the top of the A-list actors who are important in Hollywood. They say he is bankable and a film can be developed on his name alone. It amuses him.
"You know, I still have to do castings to convince some filmmakers that I am the man for the job. Six months ago, I was told no. In The Rover, I had to fight to get the role. I was hired and I hope it will be a great movie, because I really enjoyed filming it."
He said,
" I owe a lot to chance. I never thought that all this would happen, but I have never doubted either that beautiful things were waiting for me. "
His obsession? Compromise.
"I admire actors like Joaquin Phoenix and Daniel Day- Lewis because they simply do their jobs - and very well . They are complete actors, with a crazy rigor. That's all I want to be : an actor."
Robert Pattinson is freeing himself. And even of his own reluctance. So far, he fiercely refused all proposals for advertising contracts. He agreed to become the new image of Dior Homme fragrance, after Jude Law.
When it comes to explain this paradox, the star doesn't shirk :
"I have always found it dangerous for an actor to be associated with a commercial product because it vampirizes its image. But I grew up, I moved on. And especially Dior gave me free rein to conduct an artistic project, which convinced me. I love their boldness and creativity. I wanted to treat this advertising as a short film. Discovering the images of the campaign, when i saw myself, I thought that maybe I was starting a new chapter in my life ... "
Pattinson has chosen to work with French director Romain Gavras (author of Our Day Will Com , he also signed the highly controversial clips Stress by Justice and Born Free by MIA ). The film in black and white is elegant, exhilarating energy, in a modern aesthetic - very New Wave - seduced, with the sound of thunderous riff of Whole Lotta Love, Led Zeppelin. Sexy Robert Pattinson, who plays a man who wants to live a thousand lives intensely and madly love, knowing full well that there is only one. Nothing is forbidden, explore emotions, ignore the conventions ... This is the goal of Robert Pattinson, free and in a hurry to write his story .
The list of my desires:
I admire: Jean-Luc Godard, Milos Forman, Ken Loach and Ken Russell. I would love to work with Jacques Audiard, Jeff Nichols and Harmony Korine, a genius.
I like: I play the piano and guitar for years. My friends are Sam Bradley and Bobby Long. Music is still my secret garden.
I listen to: Jeff Buckley, American blues , Wu- Tang Clan, Van Morrison, Tom Waits, Neil Young.
Source
Madame Le Figaro
Pic via @gossipygyal &
RPAU